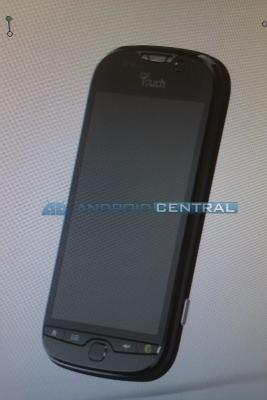 Our week of surprising news continues this time thanks to the guys at Android Central who dropped a little bit of a shocker with the first image and basically first reporting of the myTouch 3G HD. Yesterday we "discovered" the existence of a holding page for the first HSPA+ T-Mobile phone which we thought had just been posted that day. Turns out we all were about a week behind as Phonescoop reported on the page a little over a week ago. I'm honestly not sure how almost all of us missed it but hey, it's out there now and our attention turns to discovering just what phone are we waiting for. Thanks to you guys, our readers who right away went to work on the source code for the webpage discovered the word "Vanguard" tucked away. That brings us back to the Vision/G1/Blaze rumors, which supposedly, if rumors are true are one and the same as the Vanguard.
Now comes word of the myTouch 3G HD, clearly a welcome addition to the T-Mobile lineup, as the "HD" certainly sounds promising. Is this the mysterious HSPA+ phone that is silhouetted on the holding page? That we can't say for sure, but the existence of the Genius button along with the myTouch branding certainly gives us all the hope in the world for a T-Mobile arrival. Now that we know this phone exists, we're going to get to work on discovering everything we can and hopefully, maybe, this phone will grace us with HSPA+ and will be one of many to do so.
Larger image after the jump!