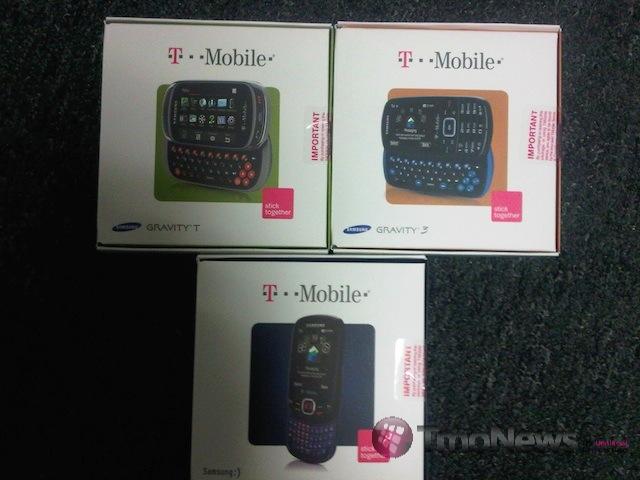 Let me just get this out of the way and say that for most of you, this isn't the Samsung phone you are waiting for. For the rest of you, with prices at $75 or less they aren't half bad options.
So here we go, Samsung and T-Mobile are officially announcing the release of the Samsung Gravity 3, Gravity T and Smiley.
Samsung Gravity T:
The Samsung Gravity T is a messaging powerhouse equipped with both a full QWERTY slide-out keyboard and a touch screen, making it easy to keep in touch with family and friends through messaging, social networking, and personal or Exchange e-mail. Featuring fully customizable home screens and task bar widgets, the Gravity T is 3G-enabled, delivering faster data speeds while surfing the Web via the Google search toolbar or T-Mobile web2go.
Samsung Gravity 3:
Available in a fun marine blue finish, the Samsung Gravity 3 is a 3G messaging device with the popular design of an external T9 keyboard and a slide-out, full QWERTY keyboard. The Gravity 3 features a dedicated physical messaging button with quick access to all your messaging needs, including personal and Exchange e-mail, text and picture messaging and the built-in social networking application — T-Mobile Social Buzz. With preloaded games such as "Guitar Hero 5," the Gravity 3 keeps you entertained while on the go
Samsung Smile:
The Samsung :) is an accessible, messaging phone perfect for the novice texter. Featuring a unique rounded-edge design with a slide-up full QWERTY keyboard, the Samsung :) fits comfortably in the palm of your hand for easy text, picture and video messaging, IM and connecting with friends and family over T-Mobile Social Buzz — a preloaded social networking application.
Official Press Release:
T-MOBILE USA INTRODUCES NEW LINEUP OF SAMSUNG
MESSAGING-FRIENDLY PHONES
Next-Generation Samsung Gravity® Phones and New Samsung :)™ Offer a
Compelling Design for Every Text Savvy Customer
BELLEVUE, WASH. and DALLAS — June 23, 2010 — T-Mobile USA, Inc. and Samsung Telecommunications America (Samsung Mobile), the No. 1 mobile phone provider in the U.S.1 today announced a new lineup of full QWERTY-keyboard phones available in unique designs to suit each customer's messaging preference, including two next-generation Samsung Gravity® phones — Samsung Gravity® 3 and Samsung Gravity® T — and the Samsung :)™ (Smiley).
More and more families are finding that text messaging is one of the best ways to communicate. In a March 2010 internal survey, close to 70 percent of T-Mobile customers indicated that they had used text messaging to stay connected at least once within the prior 7 days. Over the past three years, the average number of text messages T-Mobile customers have sent and received per quarter has nearly tripled from 262 messages in Q1 2007 to 752 messages in Q3 20092.  In 2009, 250 billion text and picture messages were sent by T-Mobile postpaid subscribers, a 51 percent growth over the 165 billion messages sent over the T-Mobile network in 2008. The new lineup of Samsung messaging phones help to answer the call for affordable, easy-to-use phones as text messaging communication increases among families.
"T-Mobile knows the importance of staying connected to friends and family through mobile messaging," said Paul Cole, vice president, devices and accessories, T-Mobile USA. "With our portfolio of new affordable messaging phones, the whole family is sure to find one tailored to both their needs and desires."
Available exclusively through T-Mobile USA and powered by its high-speed network, the Samsung :), Gravity 3 and Gravity T offer the latest in messaging capabilities and easy access to the Web that keeps customers connected and up to date on the latest with friends and family. Each of the phones also includes a new social networking feature called T-Mobile®Social Buzz, which integrates popular social networking sites into one application. When not actively in use, Social Buzz continues running in the background and delivers pop-up message notifications to the phone's home screen ensuring you are in the know on the latest updates. While in use, it gives the option to visit each social networking screen separately or visit an aggregated screen that includes messages from all communities in one simple-to-access place.
"We're proud to continue the popular Gravity series of devices with sleeker designs and a fully customizable touch screen on the Gravity T, as well as introduce the Smiley with T-Mobile," said Omar Khan, chief strategy officer for Samsung Mobile. "These three phones each offer top-notch messaging features and multimedia favorites together in one device."
Following the success of the Samsung Gravity® and Gravity® 2, Samsung Mobile and T-Mobile are continuing the series with the availability of the Samsung Gravity® 3 and Samsung Gravity® T. The next generation of Gravity devices offers two designs that come fully equipped with slide-out QWERTY keyboards and a complete messaging suite, including Exchange and personal e-mail capability, calendar and contacts. The Gravity 3 brings an external T9® keyboard and a slide-out, full QWERTY keyboard, while the Gravity T features a customizable 2.8-inch touch screen that provides a premium touch and messaging experience at an affordable price. Both Gravity devices include a 2-megapixel camera and camcorder, built-in music player, HTML browser and support for up to 16 GB of expandable memory.
The Samsung :)™ features a compact, rounded-edge design, a slide-up vertical QWERTY keyboard and a dedicated shortcut for quick access to messaging applications, including text, picture, video and instant messaging, as well as Exchange and personal e-mail capability. The :) offers an easy-to-use interface, a built-in camera and camcorder, a music player and support for expandable memory.
With T-Mobile's web2goSM service, all three devices can access the Web (optimized for the phone), personalize the phone's Web home page for easy one-click access to favorite websites, receive fast and easy search results and live news feeds with web2go, and have access to a plethora of T-Mobile offerings, including the latest ringtones, games and wallpaper.
Starting today, the Samsung :), Gravity 3 and Gravity T are available in T-Mobile retail stores, select authorized dealers and online at http://www.t-mobile.com. For more information about Samsung Mobile's new lineup of messaging devices exclusively with T-Mobile USA, please visithttp://www.t-mobile.com or http://www.samsung.com/newsroom.