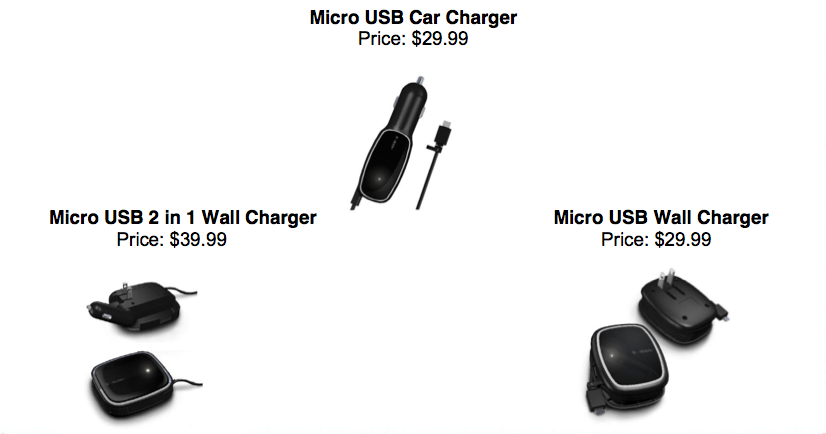 It's been almost 3 weeks since we first brought you news of T-Mobile and their featured USB chargers. Beginning today, T-Mobile is starting their PR push showing off their collection of efficient, fast-charging, neat-and-organized and capable of charging more than one device at once Micro-USB charging options. These new offerings are capable of charging devices anywhere from 20%-50% faster than the standard, included in your box boring manufacturer made charger. Take a look at the full details below:
? Fast and Energy Efficient: All three Micro USB Chargers provide customers with a faster charge time – charging phones at least 20% faster and up to 50% faster than standard chargers (depending on the phone). The chargers also feature a high-efficiency LED, which activates when the charger is plugged into a power source, reminding customers that the charger is still in use – providing a visual prompt to unplug chargers when not in use. The Micro USB Wall Charger and Micro USB 2 in 1 charger have a Level 5 Energy Star rating – the highest rating for consumer electronics.
? Convenient: The Micro USB Chargers feature an extra USB port, allowing customers to charge other electronic devices using the same charger, such as an MP3 player, Bluetooth headset or digital camera. Having one charger compatible with many electronic devices eliminates the need for additional cords and equipment when traveling.
?
Neat and Tidy: The Micro USB Chargers provide users with a neat and tidy cord management solution. All Micro USB Chargers have a channel that allows the cord to be wound around and contained with a small clip while not in use. In addition to keeping things neat, the design helps preserve the life of the charger, by reducing the stress on the charger cord.
Sounds good right? Nobody will complain about carrying around one less charger that works faster and organizes better. Good job Tmo.