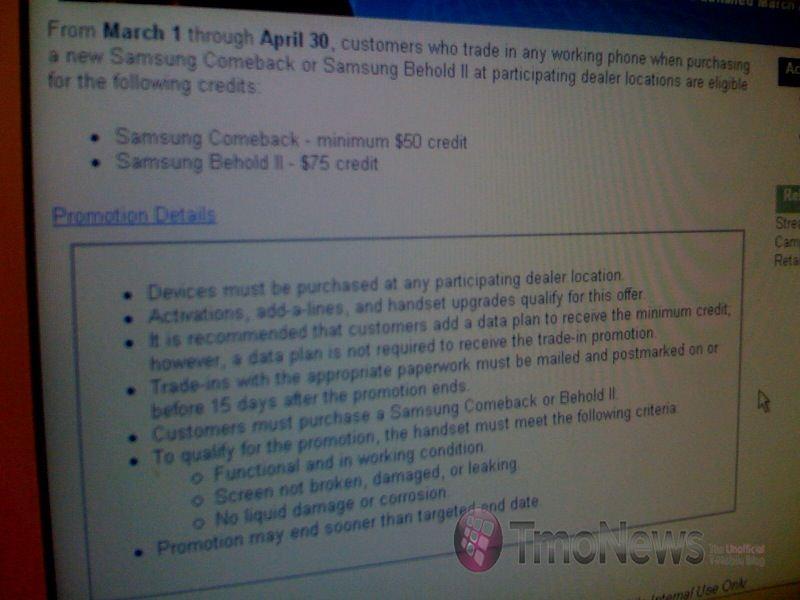 Are you interested in purchasing a Samsung Behold 2 or a Samsung Comeback?  Looking to save an extra $50-$75? Well, do we have an deal for you!  Beginning March 1st through April 30th, customers who trade in any working phone when purchasing a new Samsung Comeback or Samsung Behold 2 are eligible for an additional discount off the handset (participating locations only).  If you're looking to purchase the Samsung Comeback, you can receive a minimum of $50.  After purchase, if you decide that you do not like the Comeback  and you want some Android goodness instead, you can get a minimum of $75 credit toward a new Samsung Behold 2 when you trade in any working phone.
Promotion Details:
Devices (Samsung Behold 2/Samsung Comeback) must be purchased be purchased at any dealer location
Activations, Add-a-lines, and Handset Upgrades qualify for this offer
Data plan not required to receive the trade-in promotion
Trade-ins with the appropriate paperwork must be mailed or postmarked on or before 15 days after the promotion ends
Customers MUST purchase a Samsung Behold 2 or Samsung Comeback
To qualify for this offer, the trade-in handset must meet the following criteria:
-Functional and in working condition
-Screen not broken, damaged, or leaking
-No liquid damage or corrosion
The promotion may end before April 30th, so don't wait to take advantage of this offer!