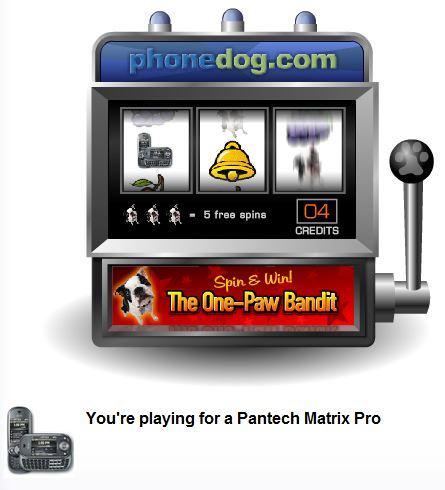 Warning: Shameless Promotion Ahead!!
The boys over at Phonedog asked for a little more love for their Phonedog giveaway "Blitz" and they are definitely giving away some phones! All things considered, giving away 67 phones since the first of the year isn't half bad when all you have to do is spin a slot machine, with up to 10 chances to win per day! Playing from Facebook or playing from Phonedog.com and win, pretty straightforward. Of course they only have 4 Pantech Matrix Pro's (I know, I know, not a T-Mobile phone) left but win one, sell it and put that cash away to a new T-Mobile phone! Would any of us really ever object to getting some extra cash to a new phone? I know to fulfill my phone desires I'd have to rob a bank, or win the lottery, whichever comes first.
Either way, sign up and win. Seriously, go now.