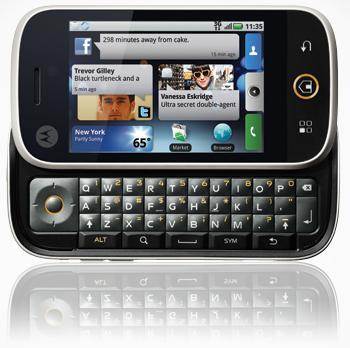 If you haven't had any luck with the Behold 2 giveaway, maybe Motorola's 12 Days of CLIQmas giveaway might interest you. Or maybe you've been anxious to try out Motorola's first Android handset with MOTOBLUR? Well whatever the reason maybe, it looks like Motorola will be giving a away 1 Motorola Cliq everyday starting today December 4, 2009 up until December 16, 2009. Seriously who could really turn down a FREE Cliq? Details on the giveaway after the break! Sound off in the comments, and do let us know if you've had any luck!
Giveaway Details:
NO PURCHASE NECESSARY TO ENTER OR WIN. MAKING A PURCHASE WILL NOT INCREASE YOUR CHANCE OF WINNING. VOID WHERE PROHIBITED.
THE FOLLOWING SWEEPSTAKES IS INTENDED FOR PLAY IN THE UNITED STATES ONLY AND SHALL ONLY BE CONSTRUED AND EVALUATED ACCORDING TO UNITED STATES LAW. DO NOT ENTER THIS SWEEPSTAKES IF YOU ARE NOT LOCATED IN THE UNITED STATES.
Entry into this Sweepstakes constitutes your acceptance of these Official Rules.
DATES: This sweepstakes begins 12/04/09 at 9:30 a.m. CST and ends 12/16/09 at 9 a.m. CST ("Sweepstakes Period").
WHO MAY ENTER: Open to all U.S. residents, age 18 and over. Individuals employed by Motorola, Inc. ("Sponsor"), their affiliate companies, subsidiaries, advertising and promotion agencies, or judges (collectively "Sweepstakes Parties") at any time during the Sweepstakes Period, and members of their immediate family or persons living in the same household, are not eligible.
HOW TO ENTER: To enter, the 12 Day of CLIQmas drawing answer correctly the holiday trivia question that Motorola tweets on their site http://twitter.com/MotoMobile and use the hashtag #MotoCLIQmas to enter. Internet entries must be received by 8:59 AM CST on 12/16/09. For purposes of these Official Rules, "receipt" of an entry occurs when Sponsor's servers record the entry information resulting from entrant posting Twitter update. Any automated computer receipt (such as one confirming delivery of email) does not constitute proof of actual receipt by Sponsor for purposes of these Official Rules. Internet entries will be deemed made by the authorized account holder of the email address at the time the entry is submitted. The authorized account holder is the natural person who is assigned to the email address by an Internet Service Provider or other organization that is responsible for assigning email addresses or the domain names associated with email addresses. The potential winner may be required to provide Sweepstakes Parties with proof that he/she is the authorized account holder of the email address associated with the winning entry. Limit one entry per user per day. Although subsequent attempts to enter may be received, only the first entry received from a particular individual email account will be eligible; subsequent attempts to enter will be disqualified. The submission of an entry is solely the responsibility of the entrant. Entries may only be made according to the method described above. Automated entries (including but not limited to entries submitted using any robot, script, macro, or other automated service), are not permitted and will be disqualified. Only eligible entries actually received by Sweepstakes Parties before the end of the specified entry period will be included in the prize drawing. Illegible, unintelligible, incomplete, or garbled entries will be disqualified.
HOW TO WIN: At 9:30 a.m. everyday from 12/05/09 to 12/16/09, a random drawing will be conducted by the website random.org to select the winners from all eligible entries received. On or about 12/16/09, winners will be notified by direct message on Twitter and the Motorola Twitter handle. It is the responsibility of entrant to maintain the Twitter account used to enter Sweepstakes in good working order. All winners must meet the eligibility requirements set forth in these rules, and sign an affidavit of eligibility, and liability and publicity release, where permitted by law, in order to qualify for the prize. Limit one prize per person. Note: You are not a winner of any prize until you have been verified as a winner by the independent judging Agency. Decisions of the judges are final in all matters relating to this Sweepstakes.
ODDS OF WINNING: The odds of winning depend upon the number of eligible entries received.
PRIZES: Twelve (12) CLIQS, one each day, will be given to the winner of the contest (ARV of each CLIQ: $200).
Only the prizes specified in the numbers indicated will be awarded. Prizes are non-transferable, with no cash redemption or equivalent. Sponsor reserves the right to substitute a prize or prize component of equal or greater value should a prize or any component of a prize become unavailable. Except as specifically provided herein, Prize packages do not include insurance, personal expenses, incidental charges, gratuities, or any other items not specifically described in these Official Rules. All applicable taxes and usage charges on prizes are the sole responsibility of the winner. If required by law, Sponsor or its agents shall require payment from winner of taxes to be remitted to the appropriate taxing authorities. Sponsor expressly disclaims any responsibility or liability for injury or loss to any person or property relating to the delivery and/or subsequent use of prizes awarded. Sponsor makes no representation or warranties concerning the appearance, safety or performance of any prize awarded.
CLAIMING PRIZE: All properly claimed prizes will be awarded. As a condition of winning the prize, winners must complete, sign and return an affidavit or eligibility and liability and publicity release, where permitted by law, and any other applicable forms required by a taxing authority, within two days of receipt of written prize notification or prize will be forfeited and an alternate winner selected. If any correspondence of the independent judging agency or any prize is returned as undeliverable, the corresponding prize will be forfeited and will be awarded to an alternate winner. Should a winner make any false statement(s) in any document referenced above, the winner will be required to promptly return to Sponsor his/her prize. Any unclaimed prizes will be awarded in a random drawing to be held as necessary. By accepting prize, entrants consent to Sponsor's use of their name, photograph and/or likeness, address, voice, and statements made by or attributed to them, in perpetuity, in any and all media now known or hereafter developed (including, without limitation, print, broadcast and Internet), for all legitimate business purposes including advertising and promotional activities without additional compensation, unless prohibited by law. Upon delivery to the winner's address, Sponsor will be deemed to have awarded the prize to the winner with winner assuming full responsibility for the prize.