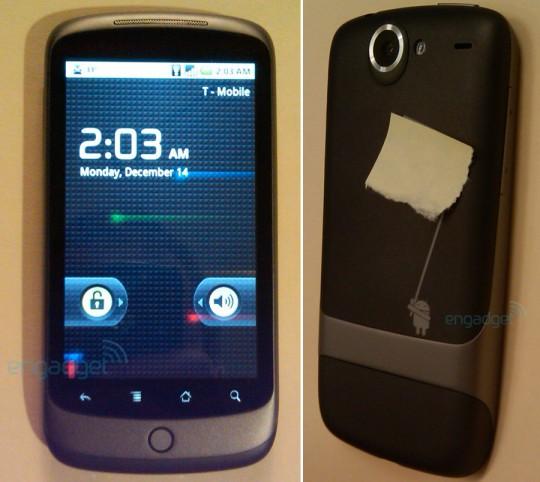 Those FCC digging boys over at Engadget have managed to uncover the FCC docs for the newly christened Google Nexus One. As luck might have it, and as we have been trying to point out for over a week now, T-Mobile is looking more and more likely as the supported carrier for this device. While at first it was thought to support BOTH AT&T and T-Mobile 3G bands, Engadget has since updated the story to reflect the discovery that the required AT&T 3G bands are in fact, not present in the FCC filings.
Of course, the FCC filings coupled with some super clear leaked images gives way to the uncovering of other, very interesting info regarding the Android 2.1 software:
• New grid icon at the bottom of the homescreen that brings up a webOS card-style preview of homescreen pages
• New 3D elements to app try
• Extended amount of homescreens
• Phone comes loaded with Google Goggles
• Pre-loaded with Google Navigation
One interesting note regarding the FCC docs is the lack of 2100 MHz range required for data downloads but as Engadget points out; the inclusion of the 1700 MHz band leaves little doubts as to a T-Mobile supported device. I think we've been trying to say that for a while now.
Hit the jump for a few more pics or head on over to Engadget for the full gallery!
Images: Engadget
FCC Story: Engadget Mobile
[nggallery id=5]