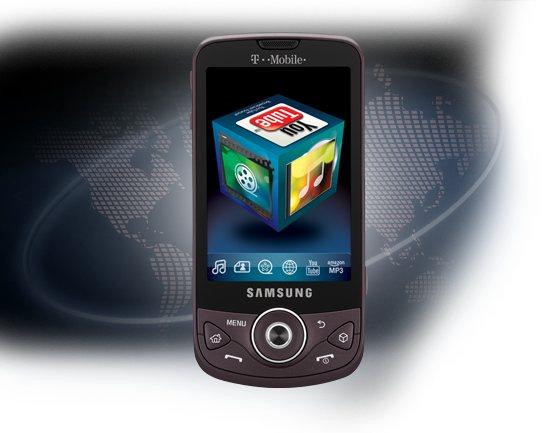 UPDATE 2: Official T-Mobile Press Release available after the jump!
Today T-Mobile has officially unveiled the Behold 2 at Samsung & T-Mobile's joint press conference in New York City. Featuring a 3.2-inch AMOLED display, the Samsung Behold 2 will be running Samsung's new and intuitive cube menu which provides quick access to six top multimedia features, including music, photos, videos, the Web, YouTube and Amazon MP3 for music downloads. What seems odd is that PhoneDog claims the Samsung Behold 2 will pack a $229 2-year commitment price tag instead of the $199.99 2-year commitment price our leaked T-Mobile document displays. Stay tuned, as we will keep you updated the minute we find out more! Hit the jump for first impressions from CNET and Engadget !
UPDATE: CNET confirms a $229.99 2 year contract price
Engadget is also hearing a $200 price tag, though nothing has been confirmed yet.
Engadget Unboxing And First Impressions with Video (Click the link)
CNET Hands-On Impressions with Video (Click the link)
T-Mobile USA Launches the Samsung Behold II on November 18
Multimedia Powerhouse Joins Broad Selection of Android-Powered Smartphones for T-Mobile Customers

BELLEVUE, Wash., and DALLAS — Nov. 13, 2009 

Available exclusively from T-Mobile USA, the Behold II is the first phone from T-Mobile to feature a 3.2-inch AMOLED screen for crisper colors and wider viewing angles, which is paired with a 5 megapixel camera with autofocus, zoom, flash, five shooting modes and video capabilities. Samsung's intuitive cube menu also provides quick access to six top multimedia features: music, photos, videos, the Web, YouTube™ and Amazon MP3 for music downloads.

"With its first-rate multimedia capabilities front and center, the Samsung Behold II adds an exclamation point to T-Mobile's already impressive Android lineup for the holidays," said Wendy Piñero-DePencier, vice president, brand and calendar marketing, T-Mobile USA. "The combination of 3G speeds, its high-resolution touch-screen, and access to loads of entertainment features is sure to make the Behold II into a holiday hit."

The Android-powered phone is equipped with Samsung's innovative TouchWiz™ user interface for easy customization through movable widgets and one-touch access to commonly used features and applications. The Behold II offers three different home screens to organize multiple workspaces with favorite widgets and application shortcuts.

"The Behold II raises the bar to the next level to create a rich, customizable set of different user experiences," said Omar Khan, senior vice president of strategy and product management for Samsung Mobile. "Combined with Samsung's advanced AMOLED display technology, innovative TouchWiz user interface and the Android platform, users can create and enjoy a mobile experience unique to their needs."

The Behold II features built-in Google™ mobile services, including Google Search™, Google Maps™, Gmail™, YouTube and Google Talk™, as well as thousands of applications and games available for download from Android Market™. The Wi-Fi-enabled Behold II also supports personal e-mail and corporate e-mail with Exchange ActiveSync, as well as instant messaging, and text, picture and video messaging. Additional features include assisted GPS, Bluetooth® 2.1, visual voicemail that allows for easier access and response to voice mail, support for up to 16GB of external memory, and includes a 2GB microSD memory card.

With support for T-Mobile's rapidly expanding 3G network, Behold II customers can take advantage of a reliable wireless connection and fast download speeds when browsing the Web or downloading applications from Android Market. T-Mobile's 3G network is currently available in 240 cities across the country. By the end of 2009, T-Mobile USA expects its 3G network to be available to reach approximately two-thirds of the U.S. population.

The Samsung Behold II will be available nationwide at T-Mobile retail stores, select authorized dealers and online at http://www.T-Mobile.com beginning Nov. 18, 2009.

 

— T-Mobile USA, Inc., the wireless leader in offering the broadest selection of Android™-powered smartphones in the United States, today announced that the Samsung Behold® II will be available beginning Nov. 18. The full touch-screen Behold II is a multimedia powerhouse with fast Web and data supported by Wi-Fi® and T-Mobile's high-speed 3G network.