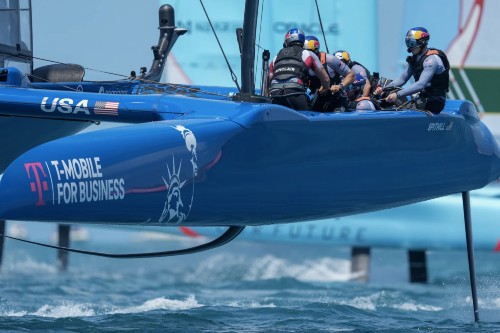 T-Mobile for Business has partnered with SailGP, one of the fastest growing sport leagues in the world. The collaboration will allow T-Mobile for Business to be the sporting event's partner for Seasons 4 and 5 from 2023 to 2025.
The partnership will also allow SailGP to use T-Mobile's 5G Hybrid Mobile Network from its 5G ANS portfolio. This way, fans can have an innovative and immersive experience of the race live in action. At the same time, the athletes of SailGP can get advanced on-water performance analysis.
As for the audience, T-Mobile's technology will be able to feed live POV broadcasts that will make them feel like they are on-board like their favorite athletes.
In the announcement, T-Mobile explained how this will all be achieved thanks to the 5G connections on board the F50s. This will power the POV cameras that will stream HD and live videos from every F50 to SailGP's London broadcast studio.
T-Mobile Business Group's president, Callie Field, says:
"We're constantly pushing the boundaries of what 5G can do for consumers and businesses. Delivering fast and reliable analytics along with immersive viewing experiences in a tough offshore environment is a literal game changer."
SailGP's chief technology officer officer, Warren Jones, also said:
"SailGP and T-Mobile for Business are committed to pushing the boundaries on innovative ways to bring fans into the middle of the action through on-board, live camera views. Plus, our athletes can now access real-time data, which further accelerates the decision-making capabilities for our 10 national teams."
Throughout the events, T-Mobile for Business will be featured at each of the four US events as well as in the Mubadala New York Sail Grand Prix on June 2024 and SailGP Season 4 Grand Final in San Francisco on July 2024. T-Mobile for Business is also the United States SailGP team's official 5G partner.
You can learn more about this sporting event here.
Source: T-Mobile