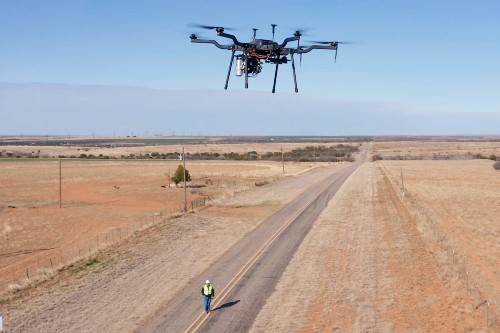 Another feat has been accomplished by T-Mobile today. The company, together with Valmont Industries Inc., has announced the completion of an industry-first long-distance beyond visual line of sight (BVLOS) drone inspection flight powered by 5G.
This accomplishment gives room for the possibility of BVLOS drone operations in the country. Together with T-Mobile, Valmont is the first in the country to get a waiver from the Federal Aviation Administration (FAA).
But what is BVLOS and how does this differ from traditional drone operations? In its press release, T-Mo explained that BVLOS flights allow operators to reach inaccessible or remote areas more efficiently and quickly. This way, they can collect and share near real-time data using the high-resolution video and images captured by the drones' cameras and sensors. In turn, this helps in monitoring and making critical decisions in these areas.
Prior to this accomplishment, the traditional methods used for monitoring infrastructure usually involve extensive manpower, manned aircraft operations, and ground-based inspections. As always, this poses a huge safety risk, requires more time, and costs more money.
Now that BVLOS drone operations have proven to be a success, the risk, costs, and length of time can be greatly reduced.
In its test mission, Valmont's Harris Aerial H6E drone was able to complete a non-stop 77-mile mission from Childress to Aspermont, Texas in less than three hours. The test mission inspected infrastructure like railroads, bridges, power lines, and more. A Sony A7RM5 camera connected to T-Mobile's 5G network was connected to the drone.
Apart from being three times faster than conventional methods, the BVLOS drone option was more fuel efficient. It used less than two gallons of fuel to complete the plight.
This is what executives from both companies had to say about the operation:
"Range has been a hurdle in the drone inspection space, until now. To be able to get this kind of range in a single drone flight is really going to revolutionize the way the industry approaches infrastructure inspections."

Jake Lahmann, UAS Manager at Valmont Industries Inc.
"5G was built to make life easier. Whether it's connecting a person on their smartphone or improving long-range drone infrastructure inspections, there is no doubt that the reach and speed of T-Mobile 5G is making it possible for entire industries to revolutionize the way they work."

Ulf Ewaldsson, President of Technology at T-Mobile
Now that Valmont has obtained a waiver from the FAA, it plans to offer drone-in-a-box (DiaB) services throughout the country by 2024. This will allow anyone needing aerial inspection services to order a drone and watch as a Valmont pilot remotely flies the drone from anywhere in the country. This will allow malfunctions and breakdowns to be prevented before they create a widespread reach.
Source: T-Mobile