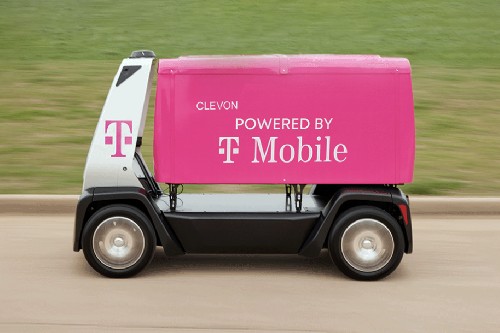 As more and more companies make the change to AI solutions, wireless carriers have also been picked up to be their partners. Today, T-Mobile announced that they have forged a partnership with an Estonian-based global autonomous delivery innovator called Clevon.
The Un-carrier revealed that they were chosen by the company as its preferred connectivity provider for its Autonomous Robot Carriers (ARCs) in the US. The two companies have made a long-term deal for Clevon's latest ARC called the CLEVON 1. Through this partnership, Clevon will be using T-Mo's network and IoT solutions to operate its fleet for on-demand driverless delivery services.
These ARCs are equipped with cameras, radars, and other sensors that send out data for rapid mapping and remote operating capabilities.
Although Clevon has been operating in Europe for years, it has only gained approval to operate on US public roads. This gives customers the chance to have driverless delivery for their retail, logistical, and grocery pickup needs. 
You can read more about Clevon here.
Source: T-Mobile