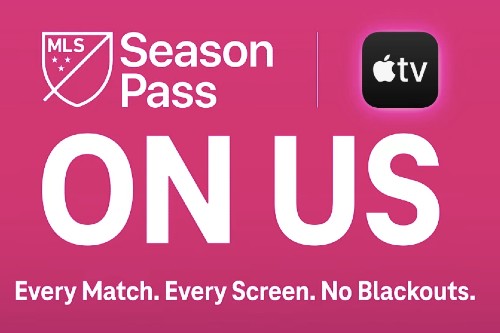 T-Mobile and Metro by T-Mobile has good news for soccer fans! The Un-carrier is bringing MLS Season Pass to all T-Mobile and Metro by T-Mobile customers starting February 21, 2023. And as a customer, you have access to this content for free.
T-Mobile will be including MLS Season Pass as part of its offering on the Apple TV App on Us promo. This saves you $99 annual value on access to Major League Soccer on the Apple TV app. Through this pass, you get to watch all live regular-season matches, MLS Cup playoff matches, and the Leagues Cup.
T-Mobile's President of Marketing, Innovation and Experience, Mike Katz says:
"T-Mobile customers already get unbeatable value with entertainment benefits like Apple TV+ on Us and now we're giving them yet another with one year of MLS Season Pass on the Apple TV app on Us. With the Un-carrier, you don't just get access to the nation's leading 5G network, you also get some serious value with so much included on top of your wireless plan."
You can get MLS Season Pass on Apple TV App on Us via the T-Mobile Tuesdays app or this website.
Source: T-Mobile