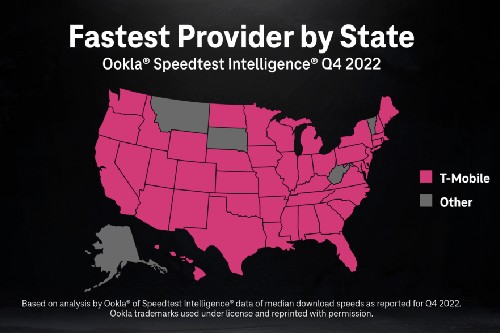 T-Mobile has just earned itself new bragging rights for its 5G network. An independent survey revealed the Un-carrier topped its overall network performance test.
Earlier today, Ookla unveiled its Speedtest Global Index Market Analysis US Q4 2022 report where T-Mo topped every single category for overall network performance. In addition to this, the study found T-Mo as the fastest in 45 states and the District of Columbia as well as in 86 of the 100 most populous cities in the country.
After receiving the results of the study, T-Mobile's President of Technology, Neville Ray, said:
"We've long led the industry in 5G, but we've had our sights on more than 5G leadership. We're taking the crown as the overall network leader in America by expanding our coverage and game-changing speeds to deliver the best experience and value to customers across the nation, and we've only just begun to show what T-Mobile's network can do."
The Un-carrier topped these categories:
Fastest mobile operator in the U.S. with median download speeds more than 2x faster than Verizon and AT&T at 151.37 Mbps and median upload speeds recorded at 12.52 Mbps.
Lowest multi-server latency, meaning faster response times for gamers, improved IoT solutions for businesses and more.
Most consistent network, meaning customers have faster speeds more consistently than Verizon and AT&T users.
Best place to stream video with the highest video score ranking.
The study also named T-Mo's 5G performance had repeated wins in Q4:
5G Performance: Clocked average download speeds at a blazing 216.56 Mbps — over 2.5x faster than AT&T
5G Consistency: T-Mobile customers enjoy a more consistent 5G experience compared to Verizon and AT&T
Bragging rights earned, indeed! You can read the full report here.
Source: T-Mobile