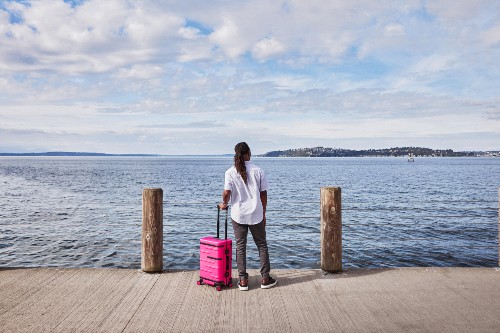 With the holiday season approaching, many people are already making plans to travel and visit friends and family. T-Mobile is taking advantage of this season by offering a new smart carry-on suitcase with technology.
Yes, that's right. Think about this: a wireless device charging carry-on suitcase with several other features. And did we mention that it's a Magenta color?
T-Mobile has just unveiled its newest product– a limited edition smart magenta carry-on suitcase.
"I know there's a lot to unpack here. Why is T-Mobile, a wireless provider, launching a suitcase? Well, we're the Un-carrier— and travel is kind of our bag. So we made one. A bag. An actual bag. T-Mobile customers are already covered with the best travel benefits, keeping them connected in America's skyways and around the world with Coverage Beyond. But in true Un-carrier fashion, we didn't stop there. We made a smart suitcase to keep your belongings covered, too. Literally."

– Mike Sievert, T-Mobile CEO
The suitcase was developed by Samsara Luggage and is currently the only carry-on suitcase in the market that comes with wireless charging capabilities. In addition to that, there is a removable battery pack with USB-C charging. The other features of the carry-on suitcase include:
Tag Smart Technology using Apple AirTag
Eight-Bag Packing Set
Flat Top Work Surface
The carry-on suitcase is now available for pre-orders via TravelMagenta.com. You can learn more about it by visiting this page.
Source: T-Mobile