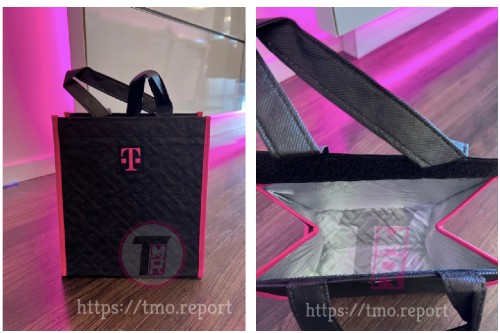 T-Mobile is once again giving away a physical item via its T-Mobile Tuesdays app. As shared by The T-Mo Report, customers can now get a "Reusable Thermal Lunch Tote" for free. 
The bag is designed to keep its contents hot or cold thanks to its insulation material. It also features a hook and loop clasp that helps secure the bag. It has a height of 12 inches by 14.5 inches. Outside, the bag is covered by a black fabric and carrying handles. A magenta stripe can be found on both sides of the bag. And right smack in the middle of the tote is the iconic magenta "T" logo. 
This isn't an entirely new design though. As pointed out in the publication, the Un-carrier used to give out a similar bag last year. The only difference to this year's design is that the former features a zipper instead of a hook and loop. 
If you would like to get your own tote bag, make sure to check out your T-Mobile Tuesdays app for a free one on April 19th. 
Source: The T-Mo Report