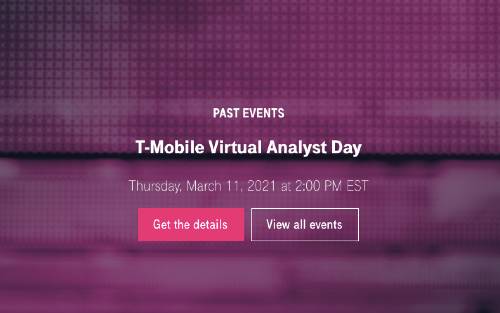 Earlier today, T-Mobile hosted its first ever Analyst Day. In the event, the Un-Carrier revealed its five-year plans to grow and value creation for the company. The Supercharged Un-Carrier plans were outlined by different executive speakers to show how determined they are at becoming the best in the world and by being a leader in customer choice. 
The executives also shared how T-Mo intends to reach millions of customers more by focusing on delivering network and value leadership in order to provide the best experiences for customers.
Some of the things they discussed in the event include the following: 
Maintaining 5G leadership in the 5G era 

Recent C Band investment further positions T-Mobile's superiority for 5G era

Already delivering 5G across more geographic coverage than AT&T and Verizon combined.

Only operator to have deployed dedicated mid-band spectrum for 5G.

Significantly expanding addressable markets

T-Mobile's superior 5G network to unlock growth opportunities in new markets, deepen relationships with customers and take the competition to cable

Plans to increase share of smaller markets and rural areas to nearly 20% in next 5 years

Expect to double market share in enterprise in next 5 years

Bring competition to the $90 billion broadband market, targeting 7-8 million customers in 5 years

Unlocking bigger merger synergies, faster

Expect total net present value of merger synergies to be more than $70 billion – up more than 60% from original merger guidance of $43 billion

Expect total run rate cost synergies to reach ~$7.5 billion per year by 2024 – up 25% from original merger guidance of $6 billion per year

Delivering even better financial results

Raising mid-term and long-term guidance across the board with higher service revenue, Core Adjusted EBITDA and free cash flow

Potentially up to $60 billion in shareholder return between 2023-2025
To read more about the analyst day reports, visit this page. Or you can watch a replay of the webinar here.