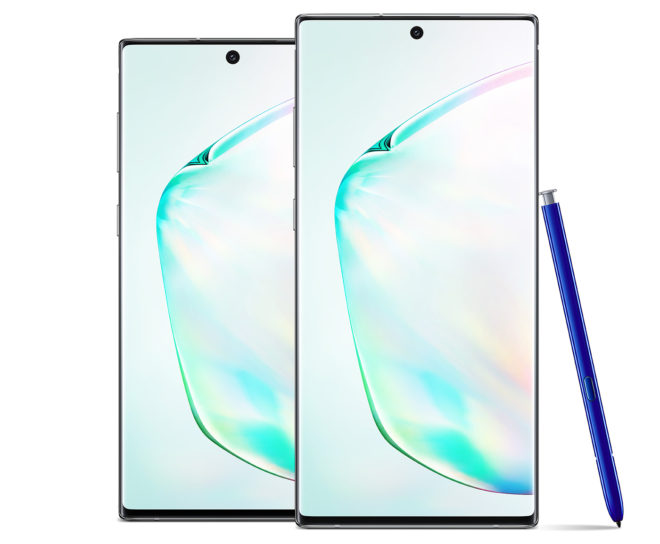 The Galaxy Note 10 and Note 10+ are now official, and they're arriving at T-Mobile later this month. And if you're interested in one of Samsung's new flagships, T-Mobile is launching two deals to help convince you to take the plunge.
First up, if you pre-order a Galaxy Note 10 or Note 10+ you can get up to $300 off your new phone via a one-time bill credit and Virtual Express Prepaid Mastercard. This deal requires you to buy the Note 10 or Note 10+ on EIP and trade in an eligible smartphone.
These are the devices that qualify for T-Mobile's Note 10 trade-in deal:
Save $300: iPhone 8, iPhone 8 Plus, iPhone 7, iPhone 7 Plus, Samsung Galaxy Note 9, Galaxy Note 8, Galaxy S9 series, Galaxy S8 series, LG V40 ThinQ, LG G7 THinQ, Google Pixel 2, Pixel 2 XL, OnePlus 6T
Save $200: iPhone 6s Plus, iPhone 6s, iPhone 6 Plus, iPhone 6, Samsung Galaxy Note 5, Galaxy S7 series, Galaxy S6 series, LG V30 and V30+, Google Pixel, Pixel XL, OnePlus 6, OnePlus 5T, OnePlus 5
Save $100: iPhone 5s, iPhone 5, iPhone 5c, iPhone SE, Samsung Galaxy Note 4, Galaxy S5 series, Galaxy S4 series, LG V20, LG V10, LG G6, LG G5, LG G4
This trade-in deal isn't limited to pre-orders, as it'll be available when the Note 10 and Note 10+ launch on August 23. So if you'd like to see Samsung's new phones in person before committing to buying one, you'll still be able to take advantage of this offer.
The second deal from T-Mobile offers a free Galaxy Note 10 or up to $950 off a Note 10+ when you buy a Note 10 or Note 10+. To get this deal, you'll need to buy both phones on EIP and activate one new Magenta Plus/T-Mobile One Plus line if you're an existing T-Mobile customer or two new lines if you're a new customer.
Finally, T-Mobile customers can take advantage of a special pre-order deal being offered by Samsung. If you pre-order a Note 10 or Note 10+, you can "create your own Galaxy kit" using up to $150 in Samsung credit. Note 10 and Note 10+ buyers can also get six months of Spotify Premium and fourth months of YouTube Premium for free with their new phone.