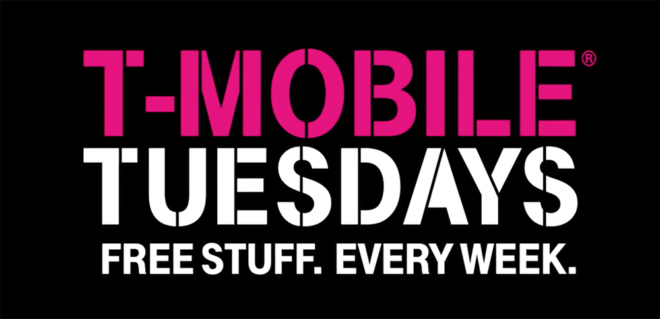 After offering a Buy One, Get One deal on Oreo cookies last week, the next T-Mobile Tuesday will offer a deal on another chocolate treat.
On Tuesday, November 6, T-Mobile customers can get a Buy One, Get One deal on Milky Way candy bars. Also available will be a free $2 Dunkin' Donuts card and deal for Puma.com that'll get you 40 percent off your purchase and free shipping.
Next week's prize is $1,000 in movie tickets. One grand prize winner will receive a $1,000 account credit for Atom Tickets along with a $428 check to cover taxes or other expenses.
Finally, T-Mobile has announced that it's going to hold a FanDuel fantasy football contest every Tuesday in November. Similar to the fantasy baseball contest from back in August, T-Mobile customers can choose a fantasy football team on FanDuel every Sunday through December 2. Customers can win cash prizes up to $500 based on how many points their team scores. Here are the prize levels:
Position Level: 1st Place
Prize Awarded: $500
Position Level: 2nd Place
Prize Awarded: $300
Position Level: 3rd Place
Prize Awarded: $200
Position Level: 4th Place
Prize Awarded: $150
Position Level: 5th Place
Prize Awarded: $100
Position Level: 6th Place
Prize Awarded: $80
Position Level: 7th Place
Prize Awarded: $60
Position Level: 8th Place
Prize Awarded: $50
Position Level: 9th Place
Prize Awarded: $40
Position Level: 10th Place
Prize Awarded: $30
Position Level: 11th – 12th Place
Prize Awarded: $25
Position Level: 13th – 15th Place
Prize Awarded: $20
Position Level: 16th – 20th Place
Prize Awarded: $15
Position Level: 21st – 30th Place
Prize Awarded: $10
Position Level: 31st – 45th Place
Prize Awarded: $8
Position Level: 46th – 65th Place
Prize Awarded: $6
Position Level: 66th – 90th Place
Prize Awarded: $5
Position Level: 91st – 125th Place
Prize Awarded: $4
Position Level: 126th – 175th Place
Prize Awarded: $3
Position Level: 176th – 275th Place
Prize Awarded: $2
Position Level: 276th – 525th Place
Prize Awarded: $1
Position Level: 526th – 1,025th Place
Prize Awarded: $0.75
Position Level: 1,026th – 2,525th Place
Prize Awarded: $0.50
Position Level: 2,526th – 6,425th Place
Prize Awarded: $0.25
Source: T-Mobile Tuesdays