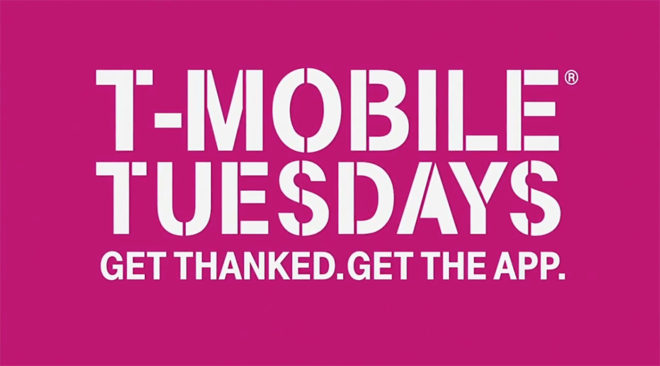 Next week's T-Mobile Tuesday gifts include the return of Dunkin' Donuts and a few other goodies.
On Tuesday, December 6, T-Mobile customers can get a free $2 Dunkin' Donuts card and $25 off a purchase of $50 or more plus free shipping from Harry & David, an online retailer that sells gift baskets, fruit, chocolates, and more. Next Tuesday's gifts also include $25 off your purchase from Shutterfly, where you can print your own photo books, cards, and calendars.
Rounding out next week's gifts is an offer from HotelStorm that'll save you $40 or more per night on hotel stays.
Sunday, December 2 will also bring the final installment of T-Mobile and FanDuel's fantasy football contest. The contest will task you with selecting a fantasy football team by 12:00 pm ET on Sunday, and customers who score well can win up to $500. Here's how the prizes break down:
Position Level: 1st Place
Prize Awarded: $500
Position Level: 2nd Place
Prize Awarded: $300
Position Level: 3rd Place
Prize Awarded: $200
Position Level: 4th Place
Prize Awarded: $150
Position Level: 5th Place
Prize Awarded: $100
Position Level: 6th Place
Prize Awarded: $80
Position Level: 7th Place
Prize Awarded: $60
Position Level: 8th Place
Prize Awarded: $50
Position Level: 9th Place
Prize Awarded: $40
Position Level: 10th Place
Prize Awarded: $30
Position Level: 11th – 12th Place
Prize Awarded: $25
Position Level: 13th – 15th Place
Prize Awarded: $20
Position Level: 16th – 20th Place
Prize Awarded: $15
Position Level: 21st – 30th Place
Prize Awarded: $10
Position Level: 31st – 45th Place
Prize Awarded: $8
Position Level: 46th – 65th Place
Prize Awarded: $6
Position Level: 66th – 90th Place
Prize Awarded: $5
Position Level: 91st – 125th Place
Prize Awarded: $4
Position Level: 126th – 175th Place
Prize Awarded: $3
Position Level: 176th – 275th Place
Prize Awarded: $2
Position Level: 276th – 525th Place
Prize Awarded: $1
Position Level: 526th – 1,025th Place
Prize Awarded: $0.75
Position Level: 1,026th – 2,525th Place
Prize Awarded: $0.50
Position Level: 2,526th – 6,425th Place
Prize Awarded: $0.25
Source: T-Mobile Tuesdays