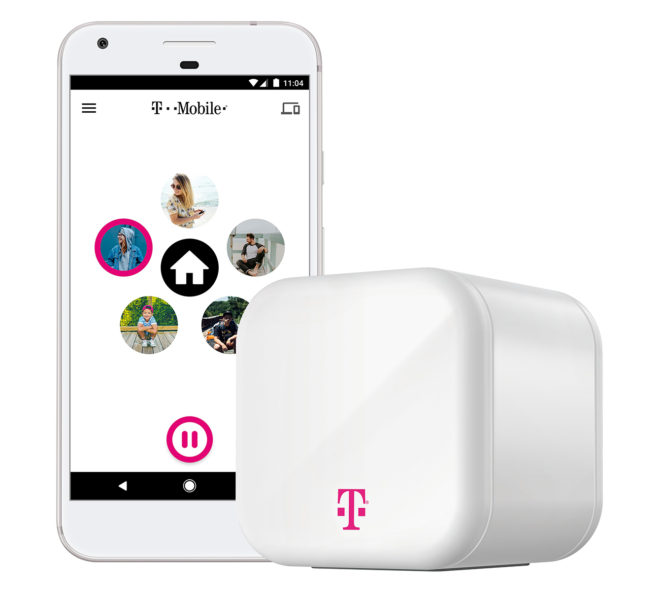 Digital wellness is a hot topic in mobile right now, and today T-Mobile introduced an app and device to help parents keeps tabs on their kids' usage.
T-Mobile FamilyMode is now official. Launching June 29th, the combination of the Home Base box and service will let parents manage their kids' smartphone and tablet usage as well as set filters and time limits. With both the FamilyMode app and Home Base box, parents can manage their kids usage on both cellular and Wi-Fi, including non-mobile devices like laptops, game consoles, and smart TVs.
Pricing for FamilyMode will be set at $20 for the Home Base device and $10 per month for the app. The app will be available on both Android and iOS.
With FamilyMode, you can set limits on how much your children can use apps and services, like between 6 pm and 9 pm on weeknights. If your kids deserve a reward for doing well in school or another aspect of their life, you can use the app to give them a bit more screen time. You can also instantly pause and resume internet access if you need to pull your kids away from their phone or tablet.
Another feature of FamilyMode is that you can keep tabs on what your children are doing on their devices. This includes seeing which apps they're using and which sites are in their internet history. Parents can restrict access to certain sites and apps with FamilyMode, too.
T-Mobile's FamilyMode can also help parents keep track of their kids' physical location. Real-time location info can show parents where their kids are as long as they've got their phone on them.
There's some useful tools in FamilyMode for children as well. A dashboard can show them their online time usage, limits, and rewards.
It can be tough to keep tabs on everything that your kid is doing online, but T-Mobile's FamilyMode looks like it'll make things a bit easier for parents with filters, limits, and usage history. And while the Home Base is an added one-time cost, having the option to manage non-mobile devices like gaming consoles and computers could be handy.
What do you think of T-Mobile FamilyMode? Are any of you parents going to sign up when it launches later this week?
Source: T-Mobile (1), (2)