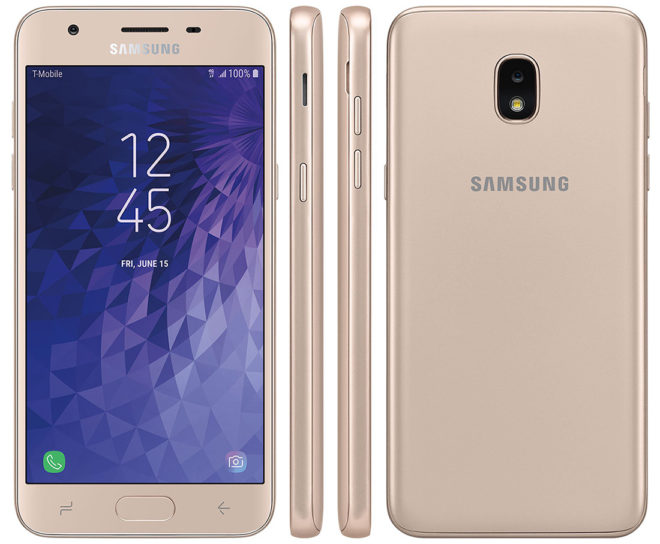 Another LTE Band 71 (600MHz) smartphone has landed on T-Mobile's shelves.
The Samsung Galaxy J3 Star is now available from T-Mobile for $7.00 down and $7.00 per month for 24 months or $175 full retail price. Included is support for LTE Band 71, aka 600MHz. The benefit of this feature is that Extended Range LTE (which includes LTE Bands 12 and 71) reaches farther and is better at penetrating buildings than mid-band LTE coverage.
Other features of the Galaxy J3 Star include a 5-inch HD display, 8MP rear camera with LED flash, and 5MP front-facing camera for all of your selfie needs. Samsung has also packed a quad-core Exynos 7570 processor into the J3 Star along with 2GB of RAM, 16GB of storage, and a microSD card slot. Rounding things out is Android 8.0 Oreo and a 2600mAh battery.
When it comes to wireless connectivity, the Samsung Galaxy J3 Star includes support for LTE Bands 2, 4, 5, 12, 66, and 71. Support for both HD Voice and VoLTE is included, too.
Like the LG Aristo 2 Plus that launched at T-Mobile earlier this month, the Samsung Galaxy J3 Star is an affordable Android phone that's made more attractive because of its LTE Band 71 support. The selection of 600MHz-compatible phones on T-Mobile is still somewhat small, so it's good to see another device that can access the 600MHz LTE that T-Mo has rolled out in more than 900 cities and towns.
Thanks, John!
Source: T-Mobile