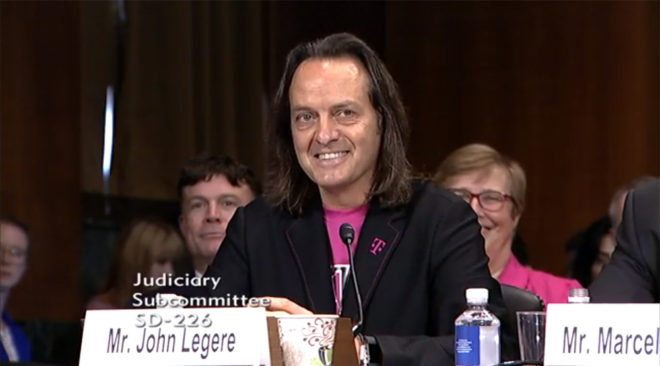 As part of their effort to get make the T-Mobile and Sprint merger happen, T-Mo CEO John Legere and Sprint Executive Chairman Marcelo Claure today testified in front of the Senate Judiciary Committee's antitrust panel. The panel included Senator Mike Lee [R-UT], Senator Amy Klobuchar [D-MN], and Senator Richard Blumenthal [D-CT].
Legere and Claure made 5G a focus of their arguments in favor of the merger. Both executives stressed how important it is for the U.S. to lead in 5G deployment, with Claure adding that the innovation could go to China if that country is able to gain a lead in 5G.
George Slover, Senior Policy Counsel at Consumers Union, also testified in front of the Senate panel and suggested that T-Mobile and Sprint merging is just a shortcut and that the two carriers have already committed to building out 5G networks on their own. Slover went on to argue that it's better for consumers if T-Mobile and Sprint build their own networks and compete.
Claure countered by saying that Sprint lacks the resources to compete with AT&T and Verizon and that on its own, Sprint's network would be limited to dense urban areas. Legere added that their combined 5G network will offer 3 times the capacity that separate networks would have.
Thank you for the opportunity to share our plans and answer questions about the future of @TMobile at today's Senate Hearing. Honored to have some of your time today, @amyklobuchar, @SenMikeLee, @OrrinHatch and @SenBlumenthal. pic.twitter.com/chdGfto3qZ

— John Legere (@JohnLegere) June 27, 2018
The change in the number of major U.S. carriers was another focus of this hearing. Legere argued that rather than shrinking from 4 carriers to 3, this merger would actually increase the number of major U.S. carriers from 2 to 3. Legere went on to say that combining T-Mobile and Sprint would lead to a more competitive company that would focus more on the enterprise market and that it could also get in the home broadband market to compete with AT&T, Charter, and Comcast.
Gene Kimmelman, President and CEO of Public Knowledge and another person who testified today, said that we're more likely to see better innovation and prices with four carriers. Kimmelman went on to say that historically, particularly in wireless, a concentration of competition would "leave prices higher than what a competitive marketplace would bear." Concerns about the prepaid market were raised, too, with Slover saying that T-Mobile and Sprint's prepaid efforts offer the best prices for consumers in that market.
Ready to testify before the Senate. pic.twitter.com/wOKBLUREE7

— MarceloClaure (@marceloclaure) June 27, 2018
Jobs were another major focus of this hearing. When pressed on the matter of jobs by Senator Blumenthal, Legere said that the combined T-Mobile-Sprint would likely eliminate 3200 full-time jobs and another 8,000 retail jobs, adding that some urban jobs will be lost but rural jobs will be gained. Legere claimed that the combined company "will be job positive by day one" thanks to efforts by creating more than 10,000 jobs in new businesses like home broadband.
Also testifying in front of the Senate subcommittee was Ms. Asha Keddy, VP of Technology, Systems Architecture, and Client Group at Intel. Keddy touched a bit on 5G, saying that low, mid, and high band spectrum are all necessary to reap the full benefits of 5G.
Dr. Roslyn Layton, visiting scholar at the American Enterprise Institute, testified today as well and made arguments in favor of the merger. "You want T-Mobile and Sprint to sit around and do their own thing as separate operators. AT&T and Verizon have a quantum leap advance today. Verizon's network is a clean 4G network," Layton said. "They have a long way to go to catch up with them," she said of T-Mobile and Sprint. "And they have to combine their assets in order to do it."
The merger of T-Mobile and Sprint is subject to regulatory approval and will be examined by the FCC and U.S. Department of Justice. In the mean time, you can watch today's full hearing at the link below.