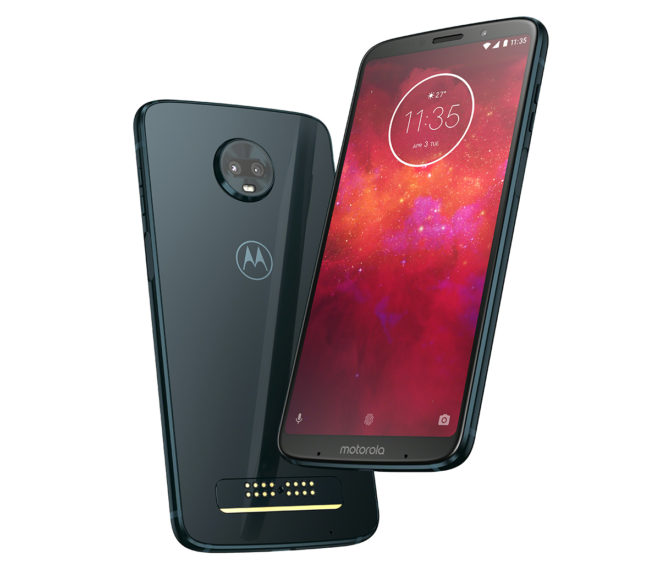 Motorola's got a new smartphone coming this summer.
The Moto Z3 Play is the newest device in the Moto Z series, meaning that it supports Motorola's Moto Mods that let you attach accessories like battery packs, a gamepad, speakers, or a projector to the back of the phone. In fact, when the Moto Z3 Play launches in the U.S. this summer, it'll include a battery pack Moto Mod.
The screen on the Moto Z3 Play is a 6.01-inch 2160×1080 Super AMOLED panel, and the front of the phone offers a 79 percent screen-to-body ratio. Around back there's a dual camera setup with a 12MP sensor with f/1.7 aperture and a 5MP depth-sensing camera, and on the front of the phone there's an 8MP wide angle camera that offers face unlock.
Motorola has also equipped the Moto Z3 Play with an octa-core Snapdragon 636 processor and 4GB of RAM. There will be versions with 32GB and 64GB of built-in storage, but no matter which model you choose, you'll get a microSD card slot for adding more storage.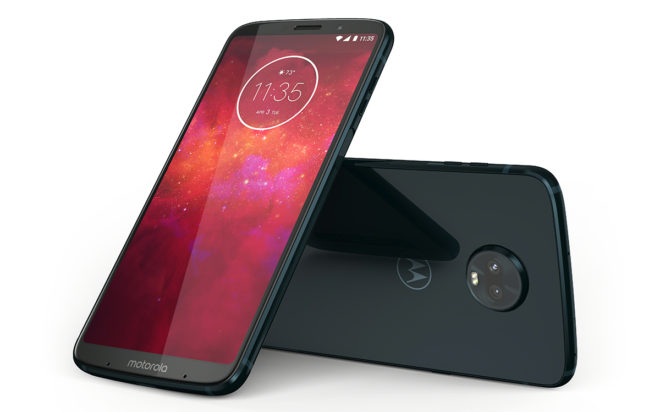 Powering the new Moto phone is a 3000mAh battery, and Motorola will give buyers a 15W TurboPower charger to recharge that battery in a hurry. Other notable specs of the Moto Z3 Play include a fingerprint reader, a splash-proof body, and Android 8.1 Oreo.
T-Mobile isn't one of the carriers that'll sell the Moto Z3 Play in the U.S. — those are Sprint and U.S. Cellular — but there will be an unlocked version of the Moto Z3 Play available for $499 from retailers like Best Buy, Walmart, Target, Fry's, B&H, and Amazon. The Z3 Play will include support for the LTE bands 2, 4, 5, 12, 66, and 71, which are used by T-Mobile. Here's the full list of the Moto Z3 Play's supported bands:
LTE: 1, 2, 3, 4, 5, 7, 8, 12, 13, 14, 17, 18, 19, 20, 25, 26, 28, 29, 30, 38, 40, 41, 66, 71
UMTS: 1, 2, 4, 5, 8
CDMA: BC0, BC1, BC10
GSM: 2, 3, 5, 8
T-Mobile launched the Moto Z2 Force Edition last year, but this Moto Z3 Play offers some upgrades over the Moto Z2 Force that could make it a good option for anyone interested in Motorola's Moto Mods. For example, the Moto Z3 Play has a larger screen with slimmer bezels and a bigger battery than the Moto Z2 Force. So if Motorola's snap-on battery packs, speakers, 360 camera, projector, and other Moto Mods seem cool to you, the Moto Z3 Play may be worth keeping an eye out for this summer.
Source: Motorola