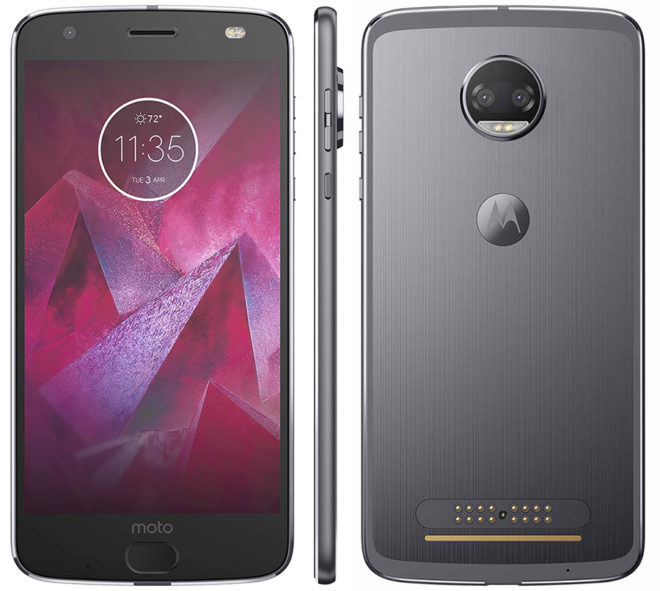 The drought of Motorola smartphones on T-Mobile is coming to an end with the launch of the Moto Z2 Force Edition.
Announced at an event in New York City today, the Moto Z2 Force Edition features a 5.5-inch 2560×1440 display with ShatterShield technology. Motorola says that its ShatterShield screen is guaranteed not to crack or shatter, and both the display and its embedded lens are warrantied against shattering and cracking for four years from your device's purchase date.
Another notable feature of the Moto Z2 Force Edition is its dual rear camera setup. There are two 12-megapixel sensors here, one color and one black and white. You can use these dual rear cameras together to capture higher-quality photos and add blurry backgrounds to your images. Also included is a Pro Mode to let you control settings like shutter speed, white balance, ISO, and exposure.
Also on the back of the Moto Z2 Force Edition are its Moto Mod connector pins. This enables you to connect one of Motorola's many Moto Mods to the phone's backside, like the the Moto Insta-Share Projector, Hasselblad True Zoom camera grip, JBL SoundBoost speaker, and extended battery packs.
Motorola also announced a new Moto Mod today in the Moto 360 Camera, which can capture 360-degree 4K video as well as 150-degree wide angle photos when it launches on August 10th. T-Mobile will sell the Moto 360 Camera for $0 down and $12.50 per month for 24 months, which is a total of $299.99.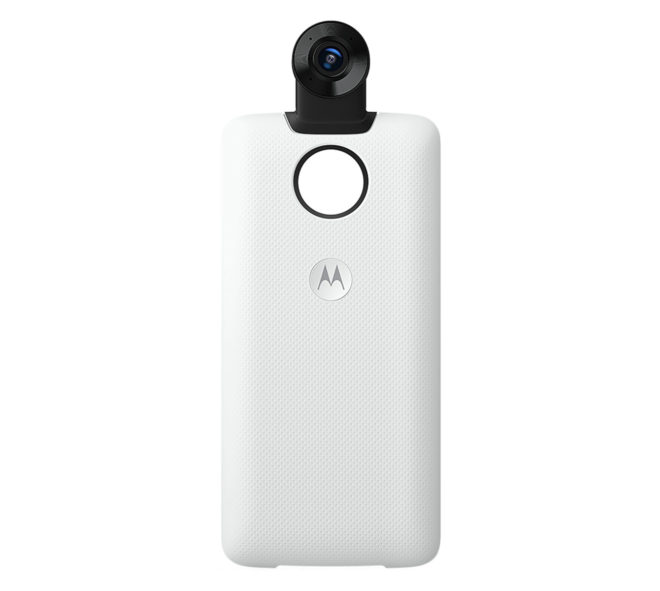 Other features of the Moto Z2 Force Edition include a Snapdragon 835 processor, 4GB of RAM, 64GB of storage, and a microSD slot for expanding on the built-in storage. There's also a 5-megapixel front-facing camera with flash, a fingerprint reader, USB Type-C, a 2730mAh battery powering the entire package. One thing that it's missing? A 3.5mm headphone jack. You do get a USB-C to 3.5mm adapter in the box, though.
T-Mobile is now taking pre-orders for the Moto Z2 Force Edition ahead of its August 10th launch. EIP pricing will be set at $30 down and $30 per month for 24 months, which works out to a full price of $750, while JUMP! On Demand customers can expect to pay $0 down and $34 per month for 18 months.
T-Mo is celebrating the launch of the Moto Z2 Force Edition by offering a buy one, get one free deal. When you buy two Moto Z2 Force Edition phones on EIP and add a new line, you'll get a rebate in the form of a prepaid MasterCard card to cover the cost of the second device.
Motorola is also offering a free Insta-Share Projector Moto Mod to anyone that buys a Moto Z2 Force Edition by September 9th.
The Moto Z2 Force Edition looks mostly like a solid upgrade over the original Moto Z Force, though the smaller battery (Moto Z Force had a 3500mAh battery) is a bit of a bummer. Even with the smaller battery, though, it's great to see another Motorola flagship on T-Mobile, because having more choices when it comes to buying a new device is always a good thing.