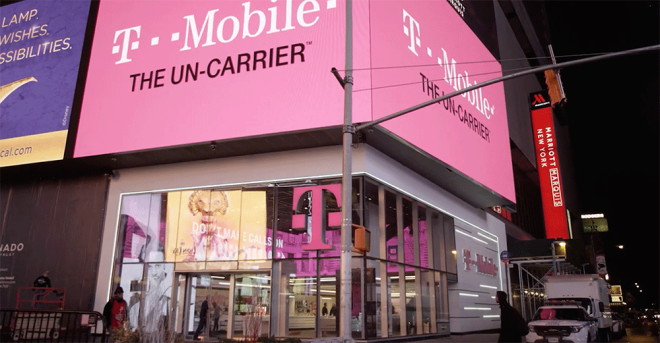 Days after announcing a merger with Sprint, T-Mobile is making more news by revealing its Q1 2018 earnings.
During the first three months of 2018, T-Mobile added 1.4 million new customers, marking the 20th straight quarter that it's added more than 1 million new subscribers. This includes 617,000 postpaid phone adds (down from 798,000 in Q1 2017); 388,000 postpaid "other" adds (up from 116,000 in Q1 2017); 199,000 prepaid customers (down from 386,000 in Q1 2017); and 229,000 wholesale customers (up from a 158,000 customer loss in Q1 2017).
Branded postpaid churn for the quarter finished at 1.07 percent, down from 1.10 percent year-over-year. Branded prepaid churn increased slightly, going from 3.91 percent in Q1 2017 to 3.94 percent in Q1 2018.
T-Mobile ended Q1 2018 with 74 million customers in total.
Switching over to financials, service revenues finished at $7.8 billion for the quarter, up from $7.3 billion YoY. Total revenues also grew, finishing at $10.5 billion. T-Mobile's net income for Q1 2018 was $671 million, which is down from $698 million in Q1 2017.
T-Mobile also gave us an update on its network. T-Mo's 4G LTE network covers 322 million people, and that number is expected to grow to 325 million by the end of 2018.
T-Mobile adds that at the end of Q1 2018, it owned a nationwide average of 31MHz of 600MHz spectrum covering 328 million people. It expects to clear spectrum covering 120 million people by the end of 2018 and is aiming to clear spectrum covering 250 million people by the end of 2019. 600MHz coverage now includes 823 cities in 31 states, and there are nearly 285 million people with either 600MHz or 700MHz coverage.
T-Mo also reiterated its 5G plans today, saying that it's planning to build out 5G using 600MHz and millimeter wave (mmWave) spectrum in 30 cities in 2018, including Los Angeles, Dallas, Las Vegas, and New York City. This network will utilize 4G and 5G bandwidths simultaneously. You'll have to wait until next year to use the 5G network, though, as the first 5G smartphones are expected in the first half of 2019. According to the cell phone plan comparison site, Wirefly, T-Mobile also beat out AT&T and Sprint in last quarter's speed test results.
During its Q1 2018 earnings call, T-Mobile reiterated that it's got more than a dozen 600MHz-capable smartphones coming in 2018 and that it's also got some more Un-carrier moves planned.
Source: T-Mobile