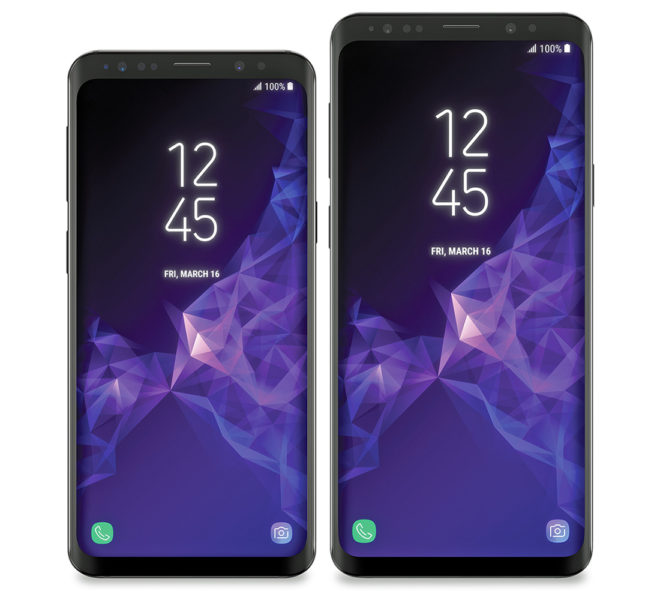 Can't wait until February 25 to see the Samsung Galaxy S9 and S9+? Thanks to the rumor mill, you don't have to.
Images that show both the Galaxy S9 and Galaxy S9+ have leaked. Shared by VentureBeat, the renders show devices that look largely similar to last year's Galaxy S8 and Galaxy S8+ with tall displays, slim bezels, and no hardware navigation buttons. The Galaxy S9 is said to have a 5.8-inch screen, while the S9+ boasts a larger 6.2-inch display.
While this particular leak doesn't include any images that show the back of the Galaxy S9 or S9+, the report does say that Samsung will be putting its rear fingerprint reader in a new spot on the devices. On the Galaxy S8 and S8+, the fingerprint reader was to the right of the rear camera, but it's reportedly moved to a spot below the rear camera on the S9 and S9+.
Speaking of the rear cameras, Samsung is expected to differentiate the S9 and S9+ with different rear camera setups. While the S9 is said to have a single 12-megapixel camera, the S9+ will reportedly have a dual 12-megapixel camera setup. The primary camera on both phones is said to boast super slow motion video capture and a variable aperture that can change from f/2.4 to f/1.5.
Inside of the S9 and S9+ is said to be Qualcomm's new Snapdragon 845 processor. The S9 will reportedly come equipped with 4GB of RAM and 64GB of storage, just like last year's S8, but the S9+ will get a bump to 6GB of RAM and 128GB of storage.
The Galaxy S9 and S9+ may not have radical new designs like the S8 and S8+ did, but the design of these phones still looks good and still fits in with the trends of tall screens and slim bezels. Plus, folks interested in these phones have other upgrades to look forward to, like a Snapdragon 845 processor and the variable aperture camera.
Samsung will introduce the Galaxy S9 and S9+ on February 25, and the phones are expected to go on sale March 16.
Source: VentureBeat