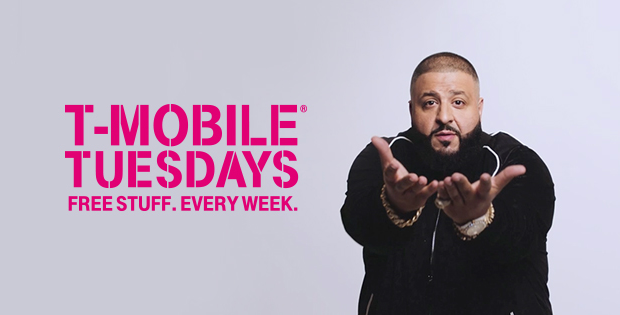 The gifts and prizes that T-Mobile's got planned for the first T-Mobile Tuesdays in December have been revealed.
For the December 5th edition of T-Mobile Tuesdays, T-Mo customers can score a free sausage biscuit sandwich from Carl's Jr. and Hardee's and a free online cooking class from Panna. Other gifts for T-Mobile customers include $30 off tickets from Ticket Liquidator and 25 percent off a purchase from craft shop Joann.
T-Mobile is doing something a bit different for next week's prizes. Rather than have a grand prize, a first prize, and a second prize, T-Mo will draw winners for a different prizes between 9:00 am PT and 3:00 pm PT on December 5th. Each winner will get two prizes, one for them and one for a friend.
Here's what next week's prizes will include:
9:00 am PT: Two B&O Play H4 headsets
10:00 am PT: Two UE Megaboom Red speakers
11:00 am PT: Two Samsung Gear VR units with controllers
12:00 pm PT: Two Samsung Gear S3 Frontier smartwatches, plus one check worth $728 for the winner to put toward taxes or other expenses
1:00 pm PT: Two Samsung Galaxy Tab E tablets
2:00 pm PT: Two Samsung Galaxy S8 Active smartphones, plus a check worth $728 to cover taxes or other expenses
3:00 pm PT: Two Samsung 65-inch UHD Smart TVs and two Sound Bars, plus one check worth $2,742 to cover taxes and other expenses
Source: T-Mobile Tuesdays