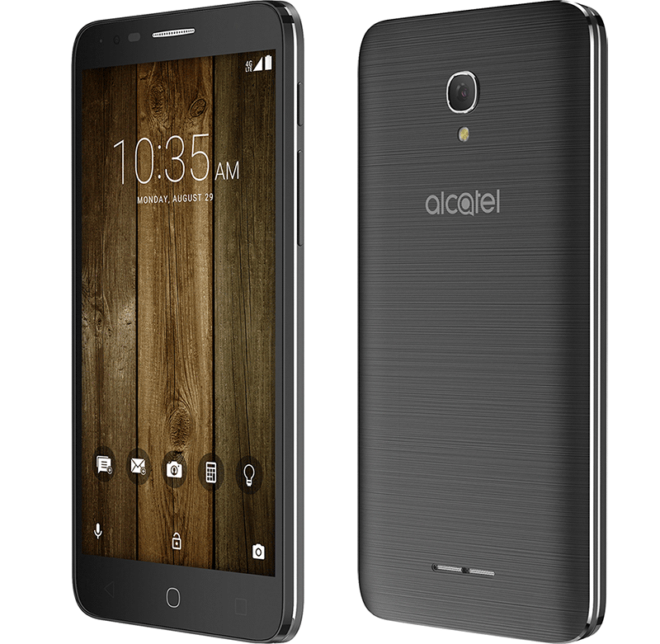 UPDATE: The Alcatel Fierce 4's price on the MetroPCS website is now listed at $69 after rebate.
After announcing the TRU for MetroPCS earlier this month, Alcatel today revealed another new device that's headed to Metro.
The Alcatel Fierce 4 runs Android 6.0 Marshmallow on a 5.5-inch 1280×720 display. It's got an 8-megapixel camera on its rear, and on its face there's a 5-megapixel camera with an 84-degree wide angle lens to help you fit more people into your selfies.
Inside of the Fierce 4 lives a 1.1GHz quad-core Snapdragon 210 processor, 2GB of RAM, and 16GB of storage (10.8GB available to the user). The Fierce 4 also includes a microSD slot and support for Android 6.0's Adoptable Storage feature. Powering this whole package is a 2500mAh battery.
Finally, Alcatel's new Fierce 4 includes support for LTE bands 2, 4, and 12.
The Alcatel Fierce 4 is available in MetroPCS stores starting today, Aug. 29. Metro's website lists the Fierce 4 with a price of $119 after $10 instant rebate, but Alcatel's announcement mentions that the Fierce 4 will be available for $69 "with eligible phone activation or upgrade," so you may want to inquire about that offer at your local MetroPCS store.
The Fierce 4 will be available from T-Mobile this fall.
While the Fierce 4 is a bit pricier than its budget TRU sibling, it offers several upgrades, too. Those include doubled RAM and storage, a higher-resolution display, and Android 6.0 out of the box. If those features have your interest piqued, you can visit your friendly neighborhood MetroPCS store to check out the Alcatel Fierce 4.