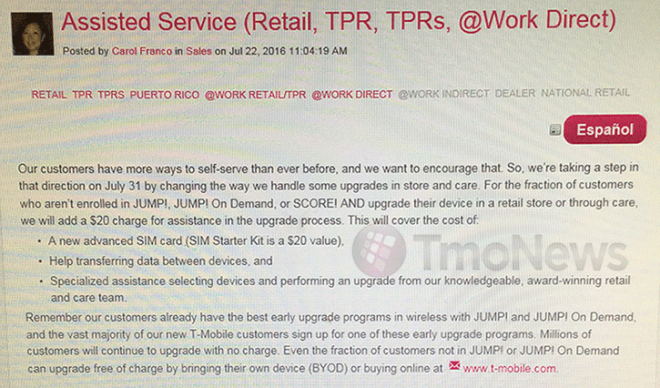 Heads up, folks, because it looks like T-Mobile will soon roll out a new fee for select customers upgrading to a new device.
According to an image sent in by a tipster, T-Mobile will launch a $20 Assisted Service fee on July 31. The charge will apply to "the fraction of customers" that aren't using JUMP!, JUMP! On Demand, or SCORE! and choose to upgrade their device in a retail store or through customer care.
T-Mo explains this charge by saying that it's for their "assistance in the upgrade process." Specifically, it'll cover a new advanced SIM card, help transferring data between your old device and your new one, and assistance from T-Mobile reps in selecting your new device and performing the upgrade.
As for why the charge is being enacted, T-Mobile says that they have "more ways to self-serve than ever before" and they want to encourage customers to use them.
It's not exciting to learn that T-Mobile could soon roll out a new upgrade fee for select customers, but at least there are ways to get avoid this Assisted Service charge. Those include being on JUMP! or JUMP! On Demand, buying your device from T-Mobile's website, or bringing a device to T-Mobile yourself. And if you are one of the customers that'll be affected by this charge, now you've got an advanced notice that it's coming.
Thanks, anonymous!