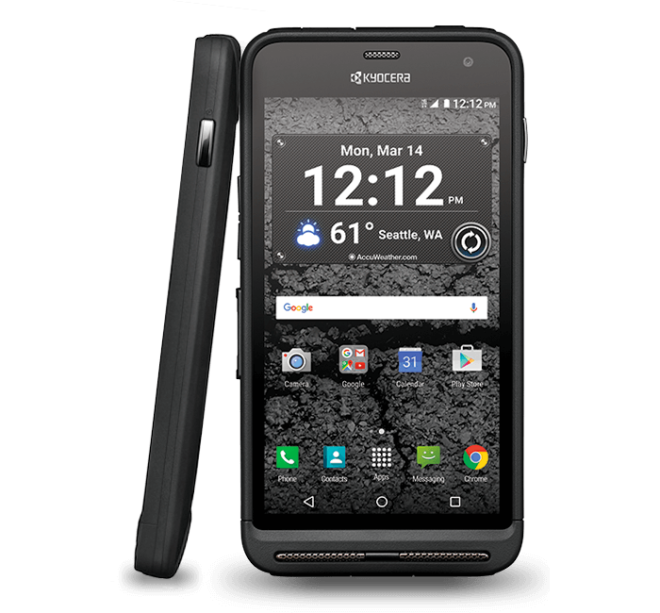 UPDATE: Despite what Kyocera's product page says, T-Mobile tells me that the DuraForce XD will support band 12 LTE.
We don't often see new ruggedized smartphones coming to T-Mobile, but that's exactly what will be hitting T-Mo's shelves next week.
The Kyocera Duraforce XD is coming to T-Mobile on May 11 at a price of $0 down and 24 payments of $18.75, or $449.99 full retail. In exchange for your hard-earned dollars, you'll get a tough smartphone that meets Military Standard 810G to withstand dust, drop, extreme temperatures, blowing rain, salt fog, and more. The DuraForce XD is also IP68-certified and can be submerged in up to six feet of water for up to 30 minutes.
In addition to withstanding dust, water, and crazy weather conditions, Kyocera says that the DuraForce XD is also OSHA certified for use in hazardous work locations where flammable gases, vapors, or mists may accidentally materialize. So yeah, it's definitely a ruggedized phone.
When it comes to straight-up specs, the Android-powered DuraForce XD has a 5.7-inch 1280×720 touchscreen that you can use when your hands are wet or have gloves on them. And when you decide to watch a video on that large display, you can take advantage of the DuraForce XD's dual front speakers. The DuraForce XD also includes 8-megapixel rear and 2-megapixel front cameras, 16GB of storage, a microSD slot for adding up to 64GB of additional storage, 2GB of RAM, and a quad-core Snapdragon 400 processor. Powering this whole package is a large 3700mAh removable battery.
The DuraForce XD may not have bleeding edge specs, but it's main feature is that it's a super rugged smartphone that should be able to stand up to a goo deal of abuse, and do it without a case. So if you want a smartphone that won't make you gasp when it takes a tumble to the ground, you might want to check out the DuraForce XD next week.
Source: Kyocera (Businesswire)