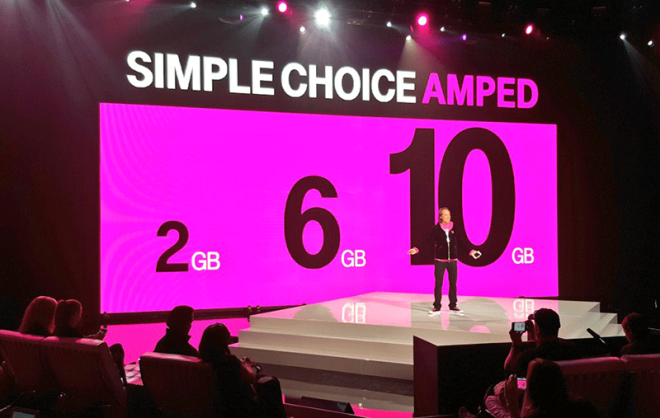 UPDATE: I've added a graphic below that should help to clear up these new Simple Choice Amped plans. They'll be available starting November 15.
UPDATE 2: I've confirmed with T-Mobile that unlimited customers that switch to the the unlimited plan on November 15 will get the 14GB of hotspot usage. T-Mo says: "Customers currently on the Unlimited Simple Choice plan will have to choose to switch over to the new plan. Those who enroll for the unlimited simple plan as of Sunday will get the 14gb of hotspot data automatically."
Today is T-Mobile's big Un-carrier X event, but before revealing the Un-carrier X move, T-Mo decided to amp up a previous Un-carrier move.
T-Mobile is doubling the high-speed data allotments included with its Simple Choice plans. The data buckets used to include 1GB, 3GB, and 5GB of high-speed data, but now they'll be increased to 2GB, 6GB, and 10GB.
Also a part of Simple Choice Amped is Family Match. With Family Match, all of the lines of a family plan can get double the data for the same price when all lines have the same amount of data. So you start with 1 line for $50 per month for 2GB of high-speed data, the second line is $30 for 2GB, and any additional lines up to 12 are $10 per month. Additional data can be bought at a rate of 4GB for $15 per line, but with Family Match, you save some money when everyone on the family plan ups their data. Moving up to 6GB will save $5 per line, moving to 10GB will save $10 per line, and moving all lines to unlimited 4G LTE data will save $15 per line.
For a limited time, T-Mobile will make the fourth line of a family plan for free. So with 6GB of high-speed data at $30 per line, you can get a family plan with four lines for $120 per month.
T-Mobile is also showing some love to unlimited data customers. Folks on an unlimited 4G LTE data plan will get their monthly hotspot allotment doubled from 7GB to 14GB.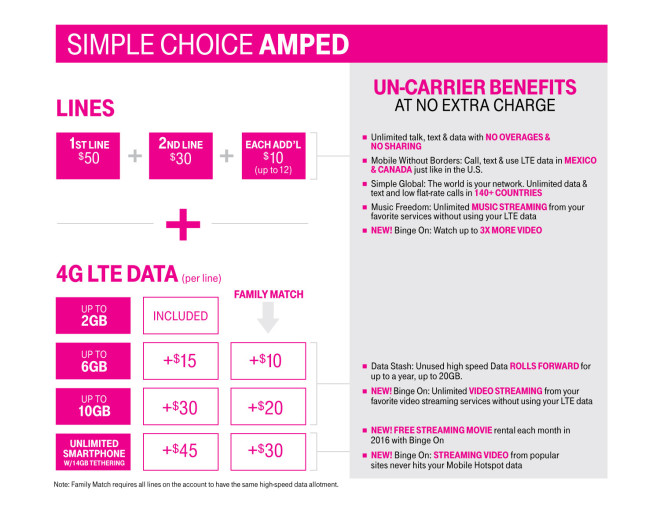 Sources: T-Mobile (1), (2)