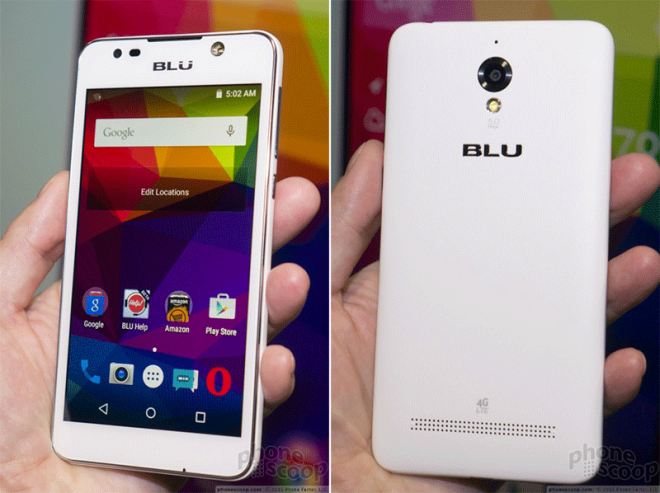 BLU Products frequently targets T-Mobile customers with their unlocked phones, but the problem is that those devices often lack fully compatibility with T-Mobile's LTE network. That's not the case with the Studio Selfie LTE, a new phone from BLU that's fully certified by T-Mobile and will be sold by T-Mo dealers.
Phone Scoop recently spent some time with the BLU Studio Selfie LTE, and as you might guess, its main feature is a 5-megapixel front-facing camera that also sports an LED flash. The rest of the Studio Selfie LTE is described as "very generic," offering a 5-inch display that's "perfectly average" and a 5-megapixel rear camera that didn't really leave a solid first impression.
The body of the Studio Selfie LTE is white and plastic, and the rear cover has a matte finish. You can also remove the back cover to reveal the card slots. Finally, the software on the Studio Selfie is vanilla Android with few meaningful changes from BLU.
Most notable to T-Mobile customers is that, since the Studio Selfie is certified by T-Mobile, it includes support for band 12 LTE as well as Voice over LTE (VoLTE). T-Mo has been pushing band 12 LTE (aka Extended Range LTE) in a big way lately, which is no surprise since it offers farther reach and better building penetration than its other flavors of LTE, so it's nice to see a BLU device that supports it.
The BLU Studio Selfie LTE will cost $99, but today's report makes no mention of when it'll launch, and neither BLU nor T-Mobile appear to have made any announcements about the phone at the time of this writing. As for the Studio Selfie LTE itself, the handset doesn't sound like it's going to impress anyone looking for a high-end device or anything like that. At just $99, though, it seems like a perfectly respectable option for someone that just wants an affordable Android phone.
For more photos of the BLU Studio Selfie LTE, hit up the link below.
Source: Phone Scoop