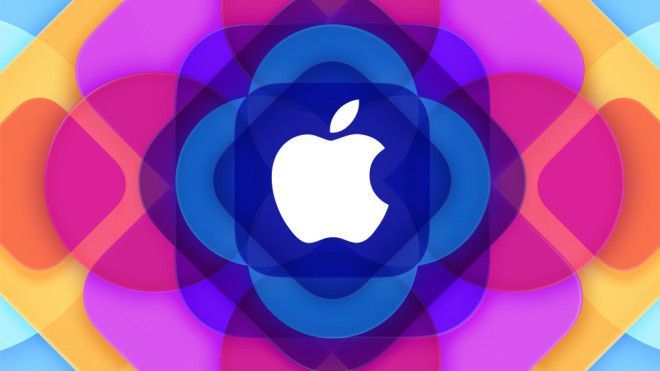 As is customary for the first day of its World Wide Developer Conference, Apple unveiled the latest version of its mobile operating system with a host of really cool new, and much-needed features. If you're a T-Mobile iPhone user you'll want to check out iOS 9 and all its improvements.
"Intelligence" – Siri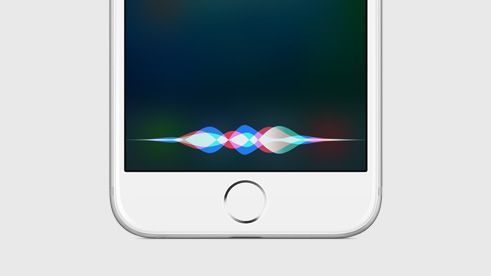 Apple broke down its new focus points in to their own categories. Filed under "Intelligence", the company unveiled a bunch of cool new features for the iPhone's digital assistant. Along with a new user interface – similar to that on the Watch – Siri took on some features that may be familiar to Google Now users.
You'll be able to ask Siri to show you photos from a specific time and/or place. For example "show me photos from Utah last August" will bring up all your pictures taken if you were in Utah on a summer break. What's more, you can be on a web page, in an email or text message and just tell Siri "remind me about this", and it creates a smart reminder based on the information on screen. It remembers the context.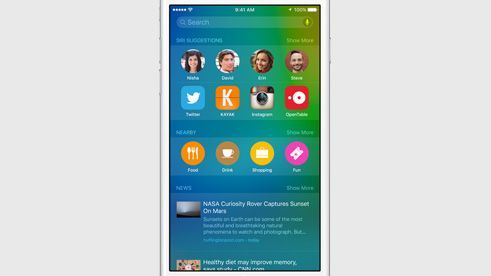 There's also a new Proactive Assistant feature which automatically takes email invitations and puts them in your calendar. If there is an address included in that invite, it'll give you warnings when you need to leave in order to get there on time. You also get a bunch of different kinds of suggestions when you go to the new Search screen including apps you might want to try. This new search screen also lets you search popular video services like YouTube, Vimeo and Vevo and lets you play the video directly within the UI of that screen.
New Notes App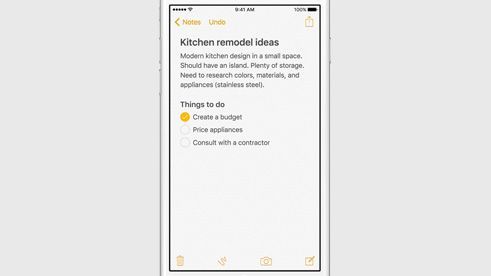 The stock Notes app that has had very little improvement ever since the first iPhone got announced is about to get a revamp. In fact, it may just replace a few other, more feature-rich apps for many of you. The new app features more formatting options like changing type face, font etc. You'll also be able to include check-lists, insert pictures or draw little sketches with your finger. What's more, Notes will become one of the default share options from Safari, so you can clip a web page and save it directly to a note and come back to it later.
New Maps App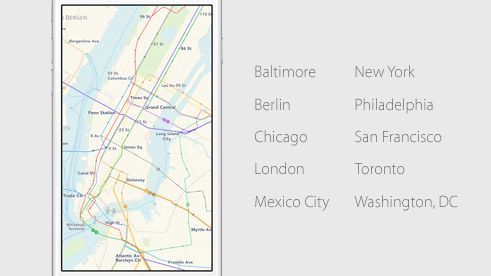 Maps has been upgraded with a new awesome Transit feature. Unlike most map services, it doesn't just incorporate times and distances and rough directions to your next station stop, or how many stops you have. Instead, Apple actually mapped out entire underground systems, including stations, their exits and walking directions/distances to use while you're on your journey. With this level of detail, it's understandable that Transit will only work – to begin with – in a handful of cities. In the States, those include Baltimore, New York, Philadelphia, Chicago, San Francisco and Washington, DC.
New NEWS App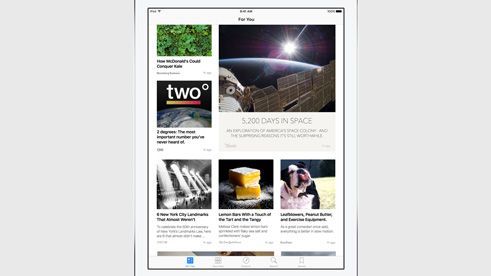 The one new stock app being added this fall will be News. In concept, it's very similar to Flipboard in that it allows you to customize your news feed to include topics of interest, or publications you enjoy. Design is key here – as with many things Apple does – and once optimized, publications will look stunning, including simple, quick and beautiful mosaic galleries.
Apple Pay, Wallet, Low Power mode and more
Apple Pay is being improved to include retail store cards and rewards cards. What's more, the Passbook app is being renamed "Wallet" to better reflect its new capabilities. iOS 9 will also bring with it a clever new Low Power Mode which can get you an extra 3 hours of use from your battery by killing processes you apparently "didn't even know existed". A big positive is that over-the-air updates won't require as much space to download, for instance, iOS 9 will only need you to have 1.3GB free on your phone rather than 4GB. HealthKit and HomeKit are also being improved with more features. CarPlay is too. The in-dash car system will work without a cable in new cars from later this year.
New iPad features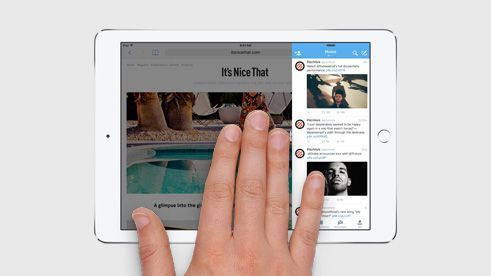 For those of you with iPads you'll be glad to know that it's finally getting multi-window multitasking. There are two different modes. Slide-over brings a screen in from the side giving you a look at a secondary app. You could be writing an email and needing to read one of your messages or notes at the same time. You can just slide in your messages from the side. Slide-Over will work on most modern iPads. iPad Air, iPad Air 2 and the iPad minis with Retina should support it. Essentially, it just lets you slide a secondary app over the one you're using, but doesn't have them both active at the same time.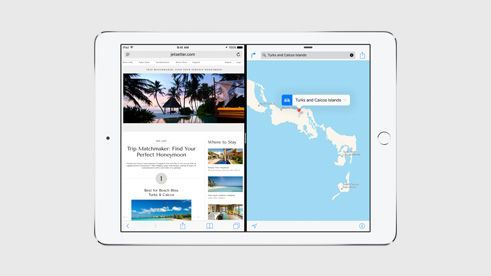 Split View is different in that it brings two app windows on screen at the same time, splitting them in the middle. Both apps are active and usable and you can adjust whereabouts on the screen you want the split to be. But there's a caveat: Split-Screen mode will only work on the new iPad Air 2. If you don't have the most recent version of the 9.7-inch tablet, there's no love for you. There's also a new picture-in-picture multitasking mode which lets you have a hovering video window on top of whatever you're doing. What's more, you can resize the window, move it or push it to the side if it's getting in the way.
Other cool iPad features include the new QuickType keyboard for iPad which brings shortcuts for functions like cut, copy and paste to the top bar of the keyboard. These will show alongside the word predictions you're used to already. There's also a new multitasking window which shows app cards in full screen (also coming to iPhone).
As an overview of iOS 9, that's pretty much it. There was an Apple Music streaming service launched too, which looks promising. Let's just hope it's included in Music Freedom. If you want more in-depth reporting on iOS 9 or anything else announced today, I suggest finding an Apple blog somewhere.
iOS 9 beta is available to developers from today with a public beta launching in July. Public full release will happen this fall – as usual. All devices that currently support iOS 8 will also support iOS 9, so there are no generations losing out this year.
Catch up on the full announcement over on Apple website here.