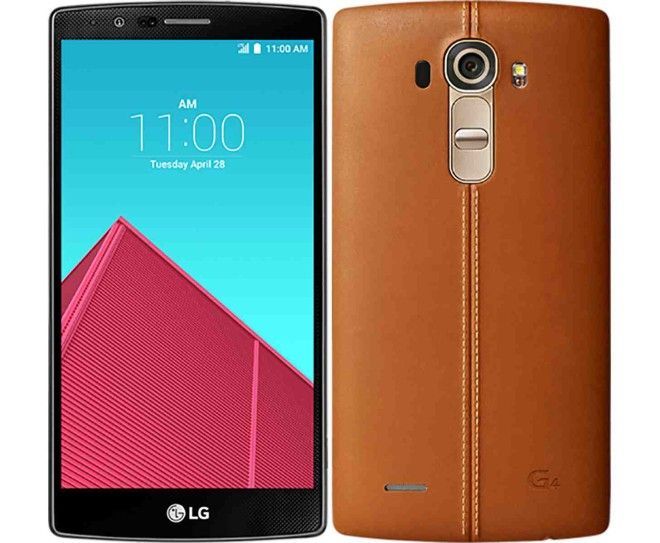 Although many T-Mobile fans will be focussing more on the company's earnings and financials today, LG wants some of our attention too. In events across the globs, LG unveiled its latest flagship device. And, despite the fact we'd seen it in many unofficial and official leaks, the Korean tech company still managed to surprise us.
As the leaks suggested, the G4 will come with several choices of color and material for the back cover. Six different color genuine leather backs will be on offer at launch, colored using a "vegetable tan" process. The manufacturer claims that the leather will change and become more unique the more you use it, like real leather should. There are also a number of patterned plastic rear covers available. Some with ceramic paint, others with the metallic finish of last year.
Like the G3 and G3, the G4 will have the same central, rear-placed buttons for switching the device on or off and changing audio volume. It also features a 5.5-inch IPS Quantum display with a resolution of 2560 x 1440 pixels, giving it a stunning 534ppi density. Inside, unusually, we don't find a Snapdragon 810 octa-core chip. Instead, LG and Qualcomm have worked together on a six-core Snapdragon 808 processor which supports 4K video and is said to be engineered for better call/audio quality. What's more, its graphics performance is 20% faster than the G3. The display is also slightly curved to give the phone better durability.
To keep it going all day, there's a removable 3,000mAh battery inside. It also has a Micro SD card slot to expand the in-built 32GB storage. If that's not enough storage, buyers will also get 100GB of free Google Drive space for two years. There's also 3GB RAM.
Along with the newer, brighter display and upgraded processor, the G4 also has better camerao optics. It's a 16 megapixel sensor which is bigger and has an impressive f/1.8 aperture and 2nd gen optical image stabilization. It's much better equipped for low light photography and the software comes with manual controls for long exposure shots, and can capture images in RAW format. It also has laser-guided auto-focus and a color spectrum sensor to recognize colors and objects in an aim to avoid weird coloring on photos. On the front is an 8MP camera for taking extra-awesome selfies.
As always, the devices comes with LG's own custom Android skin which features some interesting sounding smart widgets and a brand new gallery app. This runs on top of Android Lollipop.
Of course, we're expecting T-Mobile to announce that it will be carrying the LG G4 at some point very soon. We'll post again once availability has been announced.