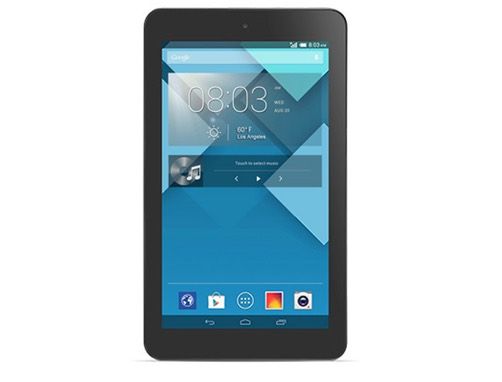 T-Mobile announced just a short while ago that it's kicking off a special offer in the run up to Black Friday, and plans to give customers the chance to grab a free tablet. Existing customers get Early Access and can get the free Alcatel OneTouch Pop 7 from November 21st. Other customers can grab one from November 22nd.
It's a good job they did just announce it, because we were seconds away from leaking the heck out of this thing…
To get the tablet for $0 down and $0 per month (plus sales tax), you need to activate a postpaid Mobile Internet plan of 1GB or higher. That's $20 per month for the Mobile Internet plan, unless you're an existing phone subscriber, in which case you get $10 discount on your data-only plan.
"At T-Mobile, we are unrelenting in our drive to give customers more," said John Legere, president and CEO of T-Mobile. "This tablet deal is our way of saying thank you.  Thank you for joining the Un-carrier revolution and making T-Mobile the fastest growing wireless company in the U.S."
To be eligible for Early Access on November 21st, existing customers need to ensure that they:
Are EIP eligible
Purchase an Alcatel OneTouch Pop 7
Upgrade or activate on a 1GB or higher postpaid Mobile Internet line
If you're wondering why you need to be EIP eligible, it's because you are still technically signing up for an EIP. T-Mobile just refunds you the monthly installments. Customers who sign up will see a $7 EIP charge on their bill, which gets credited back to them every month for up to 24 months.  The device would normally cost $168 full retail cost, and could make a great stocking stuffer for Christmas.
Possibly the only catch? In the fine print: "If you cancel wireless service, remaining tablet balance of up to $168 becomes due." Personally, I don't see it as being a sinister clause. It's a simple way of T-Mobile ensuring that you continue to pay the monthly plan fee for your data. So, although the tablet is free, it's only free if you stick with the plan for the full 24 months. 
Any of you going to pick one up on Friday?
Source: T-Mobile