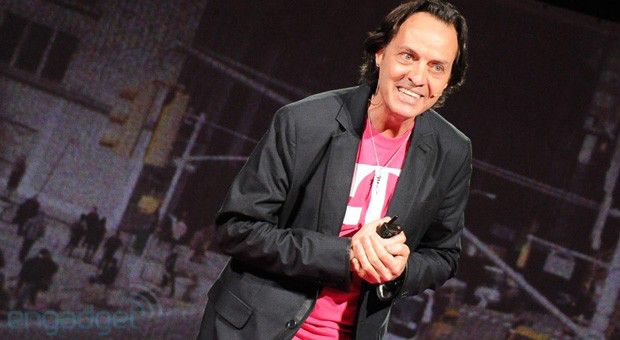 "Put a fork in it, they're done!" A phrase which T-Mobile's chief, John Legere has often used regarding his company's chances of catching up with Sprint's subscriber base. With last quarter's results having been revealed by all the major carriers, T-Mo is closer than ever to taking the #3 spot from its rival.
Sprint's total subscriber base now consists of just over 55 million customers following a quarter in which it added just under half a million subs thanks to strong wholesale connections. T-Mobile added 2.3 million customers to reach within a hair's breadth of 53 million subs (now at 52.9M). And if it can continue with its momentum, Magenta could catch Old Yeller by next quarter.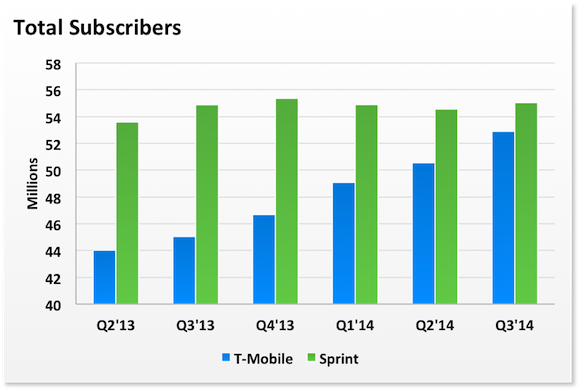 Of course, lots can change within a quarter. We're yet to see the full impact of the iPhone 6 and 6 Plus launch, and let's not forget all the hot new Android devices T-Mobile just launched (or is just about to). We've got the Nexus 6, Note 4 and Z3 all in the lineup now, and when you combine those with the new iPhones and T-Mobile's great plans and improving, speedy coverage, it's a combination that's hard to resist.
And while Sprint's competitive price plans are attracting new customers, they don't seem to be doing too much about stopping customers leaving. But, that could be a premature statement. Q4 results will give us a much better indication as to how successful each carrier's moves have been this fall.
Source: Nasdaq