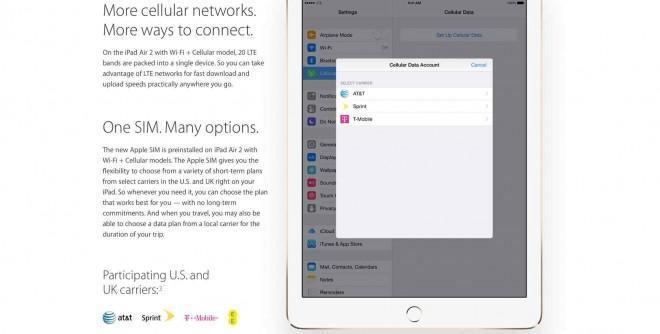 Until T-Mobile announces that it's going to a stock the new iPads announced by Apple today, I'll save a general post about them. But, one thing I thought was very, very interesting was a quick blurb on the iPad Air 2's cellular model overview.
If you buy a Wi-Fi + Cellular model of the iPad Air 2 from Apple, it comes with a "new Apple SIM". The Apple SIM is carrier free, and lets you choose short-term plans from select carriers in the U.S. including AT&T, Sprint and T-Mobile. As it stands, this feature is really only useful in the States, but it is a truly Un-carrier move.
"The new Apple SIM is preinstalled on iPad Air 2 with Wi-Fi + Cellular models. The Apple SIM gives you the flexibility to choose from a variety of short-term plans from select carriers in the U.S. and UK right on your iPad. So whenever you need it, you can choose the plan that works best for you — with no long-term commitments. And when you travel, you may also be able to choose a data plan from a local carrier for the duration of your trip."
As more carriers from across the globe get involved, you'll be able to take your iPad Air abroad with you and switch to a local data plan when you get there. Then switch back when you're home. Or, even more locally, if you move or travel to an area where T-Mobile's LTE isn't so hot, you could switch to one of the carriers with better signal/data speeds.
What this means for the future of telecommunications is potentially ground-breaking. If Apple can prove that this works, and is in the best interest of the consumer, and carriers don't suffer, it could pave the way for built-in, non-removable and carrier-free SIMs.
As a side note, this is something Apple's been working on for some time. And with the iPad Air, it's just the beginning of something new. Back in 2010 it was rumored that Apple was working on a SIM solution that would cut-out the carrier. By starting with a blank slate, and a device capable of using multiple bandwidths and carriers, users would have the freedom to switch between network operators without being tied down. GigaOM reported on it back in the October of four years ago.
"It's rumored that Apple and Gemalto have created a SIM card, which is typically a chip that carries subscriber identification information for the carriers, that will be integrated into the iPhone itself. Then customers will then be able to choose their carrier at time of purchase at the Apple web site or retail store, or buy the phone and get their handset up and running through a download at the App Store as opposed to visiting a carrier store or calling the carrier. Either way, it reduces the role of the carrier in the iPhone purchase. Gemalto and Apple have not responded to requests for comment. I'm also waiting to hear back from other sources to get more details."
In a short-term perspective, this could be great for T-Mobile. Customer who previously haven't tested the company's network could do so without commitment, and without needing to return their chosen device like they would with a Test Drive.
The question is: What does this mean for next year's iPhone? Will Apple start selling iPhones with the Apple SIM?
Would love to hear your thoughts on this. Is this the future of telecommunications, or just an interesting move/tester by Apple?