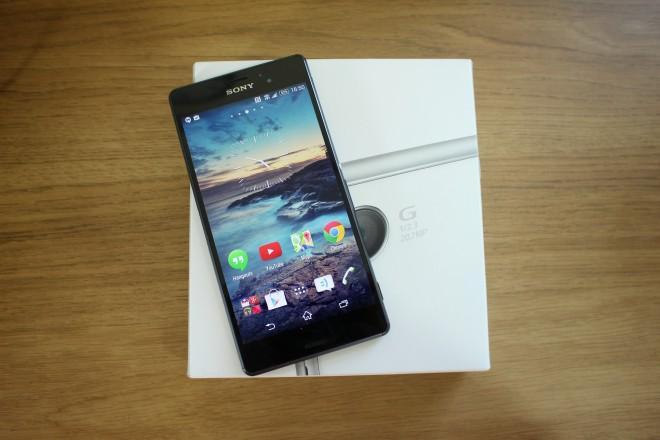 One of the most curious aspects of today's Android market is how Sony hasn't quite managed to crack it. For the past few years it's unveiled a series of fantastic phones, and yet – for one reason or another – they don't catch on. Could it be lack of effort in marketing? Low interest from the major U.S. carriers? Lack of ambition? Perhaps a mixture of all three and then some. And yet, quietly, the company's Xperia Z range has become one of my preferred lines in the smartphone market.
I've been using the Z2 as one of my go-to devices for the past 6 months, and couldn't wait to see what Sony had up its sleeve for the next generation. And the fact that it's coming to T-Mobile spurred me on further to cough up the cash and buy one. You'd be amazed how many times the "I can cover it for TmoNews/PhoneDog" persuades me to hit the "checkout" button on Amazon.
48 hours ago, my unlocked UK model arrived, and I unboxed it for PhoneDog. See it below.
First impressions are good. Some may complain about the lack of "huge changes". But if the mobile industry has taught us anything over the past 5-6 years, it's that subtle and incremental updates are the way forward. Apple's been doing it for years, Samsung's Galaxy range (at least for the past 2-3 generations) also follows that pattern. Sony, however, seems the king of incremental. And I mean that in the best possible way.
Looking down the spec-sheet, you could be forgiven for thinking that this is a carbon copy of the Z2. It's got the same 1080p resolution 5.2-inch LCD display, the same 20.7MP camera with 4K video recording, same Wi-Fi technologies, same Adreno 330 GPU. Same "Triluminous" and "X-Reality" branding and digital noise cancellation. The processor has been bumped to 2.5GHz, but it's the same Snapdragon 801 series makeup, has the same 3GB of RAM, but oddly has a 3,100mAh battery instead of the 3,200mAh found in the Z2. And it's IP68 certified waterproof and dust-proof, which I'm told is better than being IP58 certified. I say all this knowing that the Z2 didn't really launch in the U.S. But even when you compare it to the Z1S, there aren't that many changes on the spec sheet.
But when you look at it, hold it in your hand and power it on, it's clear that this is a different beast.
Sony's only shaved 0.9mm off the thickness and 1.3mm off the width, compared to the previous generation and yet it feels and looks a lot smaller. The rounded edges give it a more streamlined look, and for the first time, the Xperia Z-series doesn't look and feel like a big square brick. Both of the two "flaps" for keeping your Micro USB, SIM and MicroSD card slots waterproofed are pill-shaped and a lot more subtle. The coloring of the metal chassis on the black model is classy too. In short: This is the best-looking Xperia Z-phone so far. By a long shot.
It's on the software side that I felt underwhelmed. No thanks to the virtual on screen buttons and the status bar, the content on screen seemed somewhat squished. That – to me – isn't acceptable on a phone with a display larger than 5-inches. App icons were huge, but I dealt with that by downloading and installing a different theme through Go Launcher.
I've not had enough time with it to give you my full thoughts on performance, or camera quality. If it's anything like its predecessor, it should be phenomenal on all counts. But I won't get ahead of myself. What I will say is that the display seems to have found some life. Instead of having a comparatively dim screen with washed out colors and poor daylight visibility, the panel shows colors much more vividly. There's a punch to it that I've not seen an a Z before.
The jury is still out on whether the T-Mobile model will definitely support band 12, A-block network frequencies. But it will – at the very least – support bands 2 and 4 LTE and be capable of download speeds of 150Mbps in areas where 20+20 has been activated (theoretically speaking, of course).
I'll bring you my full thoughts at a later date, including my video review for PhoneDog. Look out for it in about one week time.
Do you plan on picking one of these up when it launches on T-Mobile?