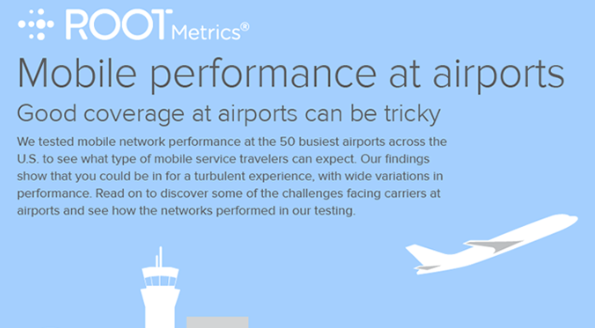 RootMetrics is well known for testing and reporting on network speed and reliability across the globe, and its latest published report answers the age-old question: How good is my network at an airport?
Okay, so it's not a question on many peoples' lips, but it's still useful to know that next time you're heading to meet a friend at O'Hare arrivals that your connection isn't going to drop off. Or, if you're planning a trip abroad, you can still WhatsApp until the Airbus takes off. Before we get on to which airports are best for T-Mo customers, we'll briefly touch on those which have the best network performance in general. Taking all carriers and their performance in those locations in to account, the top 5 airports for cellular coverage are as follows:
Southwest Florida International Airport
O'Hare International Airport (Chicago, IL)
John Wayne Airport – Orange County (CA)
Memphis International Airport
General Mitchell International Airport (Milwaukee, WI)
As many of you will know, the RootScore is made up of two metrics: Speed and Reliability. T-Mobile consistently performs really well on speed, and is starting to catch up with the big guns on reliability. Out of the 50 airports reviewed, T-Mobile was the best network in 20 of them. That's 11 more than the second half of 2013.
The top 5 airports for T-Mobile customers are:
Cleveland-Hopkins International Airport
Ronald Reagan Washington National Airport
Metropolitan Oakland International Airport
Sacramento International Airport
George Bush Intercontinental Airport (Houston)
T-Mo also performed really well at John Wayne Airport, Memphis International, Seattle-Tacoma, Kansas City, Portland International, Tampa International, Dallas/Fort Worth International, Denver International, Phoenix Sky Harbor International, John F. Kennedy International, Lambert-St. Louis International, Nashville International, Newark Liberty International, Minneapolis-St. Paul International and San Diego International.
Although it was generally good news, T-Mobile's top speed wasn't quite up with the fastest network at airports. Verizon scored an impressive 77.8Mbps at Hartsfield-Jackson, while T-Mo's fastest at the same airport was "just" 27.3Mbps.
Yet further evidence for us that T-Mobile's network is on the up.
Source: RootMetrics