With the arrival of Simple Choice plans last year, T-Mobile's mission was to have a selection of easy to understand plans separated by $10 tiers. With no overages, free streaming, international texts and data, and unlimited calls and texts on all plans, the only differences are the amounts of data offered at each tier. And it would seem T-Mo wants as many people as possible joining the Simple Choice ranks: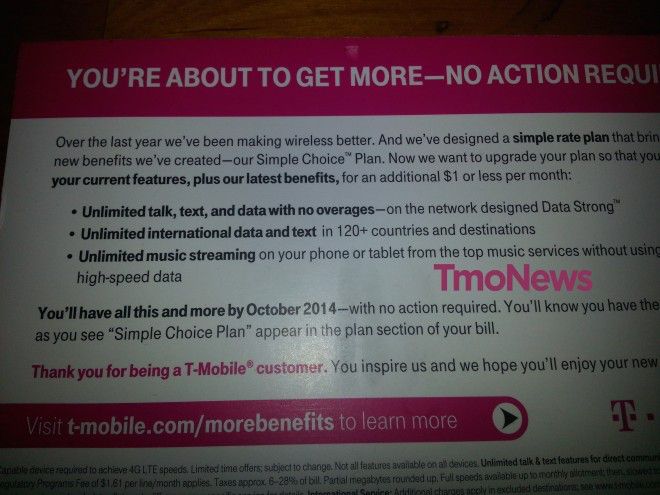 The company is sending out post cards to certain customers on older, legacy plans informing them that they will be changing over to Simple Choice from October 14. This specific customer has been a subscriber on an old business 600 plan for 10 years, receiving 600 mins, 500 texts and 2GB for $59.99. Once switched, he'll be paying a cent more, getting unlimited mins and texts and gaining an extra 1GB per month.
The post card itself includes a link to the "Get to know the benefits of Simple Choice" page on T-Mobile's business pages.
T-Mobile explains the changes:
"Having so many older rate plans is confusing to our customers. Being the Un-carrier means making things simple. And we want you to be able to take advantage of all the benefits that come with the Simple Choice plan!"
Obviously, it's also confusing for staff having customers on plans they're not educated on during their employment. The page also deals with moving to a non-contract plan, monthly rate plans and other FAQs.
Let us know if you've received one of these post cards through the mail, or if T-Mo has texted you about the changes.
*Edited 10:40am EDT – Incorrectly stated the customer would be losing half their data allowance, which would only happen if they dropped to the $50 Simple Choice plan.