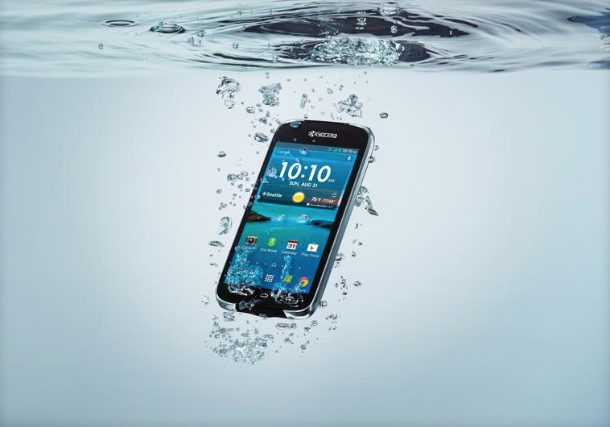 "Fragiphoniphobia" – Sounds painful right? Good news though, is that it's just a fancy name for the fear of fragile phones. That's right Samsung, Kyocera's coming after you and your flimsy plastic devices. It's not a made-up term at all.*
On a more professional note, T-Mobile and Kyocera today announced the arrival of the rumored Hydro Life smartphone. It's available for T-Mo customers at Wal-Mart from August 8th costing just $124.99, while MetroPCS will start selling the phone from August 29th.
"The Hydro Life is a perfect option for someone who leads an active lifestyle, wants access to the latest technology and apps, but needs a smartphone that can withstand the elements," said Jason Young, senior vice president of marketing at T-Mobile. "At T-Mobile, we partnered with Kyocera to match a rugged smartphone with the only nationwide network built data strong."
Kyocera's latest T-Mo device is IP57 certified, meaning it can handle being 1 meter deep in water for 30 mins and still keep going. It's also certified to meet Military Standard 810G for protection against drops and shock. Simply put: It can handle you dropping it down the toilet from a height. It's also equipped with a 4.5-inch impact-resistant display, a 2,000mAh battery, a 5MP rear camera and 2MP front facing snapper.
*it totally is.
Source: Kyocera