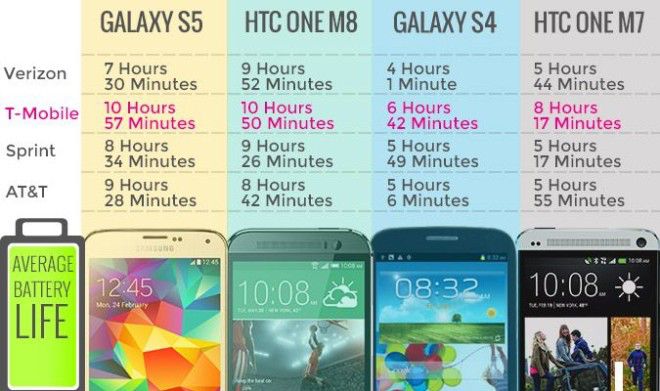 We often see tests and comparisons on various smartphones to see which device offers the best battery life. For some, it's a vital metric that helps make informed choices on which phone to buy. But you rarely see tests comparing the same phone on different carriers to see if that makes a difference. And apparently, it does.
LaptopMag published results of a test yesterday afternoon, and it would seem that if you buy a top smartphone on T-Mobile, you'll get up to 3 hours more use time than you might from a competitor's device.
And this isn't an isolated incident. Laptop Mag notes that during its time testing mobile phones, the pattern has a "curious consistency". This isn't a one off.
Combining the past 36 months of Laptop Mag smartphone reviews, T-Mobile averaged 7:26, nearly an hour longer than its nearest competitor, Sprint (6:35). Verizon and AT&T bring up the rear over 36 months, with times of 6:31 and 6:26 respectively. However, many Sprint phones we reviewed over the past 3 years were not LTE-capable, making that carriers numbers look a little better than they should.
To perform the test, Laptop Mag uses its own bespoke app which surfs 50 popular web sites, pausing on each page for 60 seconds and repeating the pattern until the battery caves in. During the test, Bluetooth, Wi-Fi and NFC are switched off and the device is just using the carrier's network. The report notes they also make sure the device has at least 3 bars of service.
In the New York/New Jersey area, T-Mo's Galaxy S5 lasted 10 hours and 57 minutes. Its closest competitor was the AT&T model which lasted 9 hours 28 mins. Sprint's lasted an hour less than AT&T's, while Verizon's performed the worse with just 7 hours 30 minutes use before it ran out of juice.
To see if results changed in different markets, they sent the S5 out to Chicago, where battery life improved. In the Windy City, T-Mo's lasted an impressive 11 hours 16 mins. Again, AT&T was in second place on 10 hours 36 mins. VZW's improved to 9 hours 8 mins while Sprint's model – bucking the trend – dropped in performance.
Laptop Mag speculates that the difference in performance is perhaps down to T-Mo having a more efficient and less-crowded network. Another possibility is that T-Mobile's phones have less bloatware than its competition.
Via: Laptop Mag