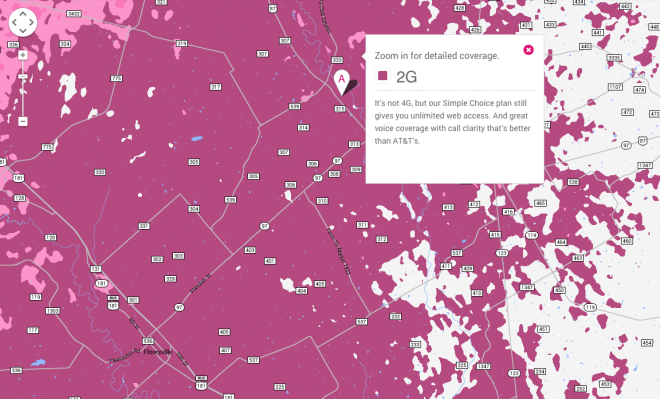 As part of its ongoing commitment to building a "Data Strong" network, T-Mo has stated that it will be upgrading several 2G areas to 4G/LTE before the end of this year. This move joins others like building up wideband LTE in major metro areas, and rolling out 4×2 MIMO in others to offer the best, fastest network available. However, the 2G to 4G upgrade is by far – in my mind – of biggest importance. After all, there's no use having the fastest network if it's only available in the big cities and not anywhere else.
We've been informed by many readers over the past few weeks of new LTE and HSPA sites going up along major highways, but today we've been told of something a little more exciting.
According to our source, T-Mobile has applied for permits in the Wilson County, Floresville, Texas with the aim of completing tower upgrades in that county, and statewide over the next few months. The upgrades will be underway soon, and should be completed by December, unless there are any major technical issues with the rollout. These upgrades are specifically to upgrade 2G in more rural areas to 4G, giving a much faster  network to those who currently have only EDGE (at best).
Of course, it'll more than likely be some time before the 4G in rural areas comes close to the blazing 20+20 networks in Houston and Dallas, but I'm sure the residents won't mind, as long as they're finally getting some 4G action.
Those of you in the Wilson County area, in Floresville, be on the look out for HSPA and LTE over the next couple of months and let us know if you spot any changes in network availability.
UPDATE: Having heard back from a source following a little more investigation, it appears this might not be the case. In short: It might be a 2G to 4G upgrade, but it might not be. Only time will tell if this area gets a network boost.
"our county doesn't require any permits for repairs or upgrades, only for new tower construction.

Tower Location:SA01419A Koepp/Crown BTS 29.331389 -98.133056 658 CR 344 La Vernia TX 78121

The company doing the work is www.gobroadus.com ,from what I understand they are doing contract work for T-Mobile in various locations in Texas. My thought is they are in this area now because the local internet company, GVEC.Net is lighting up fiber in that area. Might be a backhaul upgrade for the conversion to 4G, she said no work up on the tower would be needed so it has to be work in the cabinet."