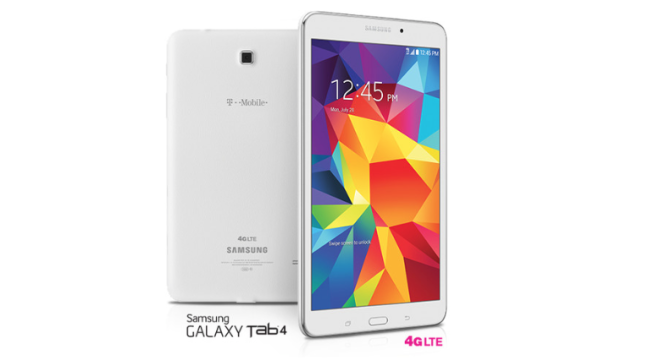 Late last week we heard T-Mobile was planning to release the Galaxy Tab 4 on July 23rd. Turns out, as with the LG G3 release date, our sources were bang on the money. T-Mobile, today, announced that it has opened up pre-registration for the next generation Samsung Galaxy Tab, and it'll be available to purchase from retail stores on July 23rd. For those wanting to order online, you'll be able to get your orders in a week earlier, on July 16th.
"The Galaxy Tab® 4 8.0 is perfect for the family who needs a tablet for all their multimedia use – priced so you won't break the bank in the process," said Jason Young, Senior Vice-President of Marketing for T-Mobile. "And only the Un-carrier offers true Tablet Freedom, so you'll get free LTE data every month for the life of your tablet."
Pricing is fairly affordable too. On EIP, you can snag one for $0 down with 24 monthly payments of $16, giving it a full retail price of $384 putting it right in to WI-Fi only iPad mini w/Retina territory. Specs include a 3MP rear camera, 1.5MP front facing camera, 4,450mAh battery and 1.5GB RAM as well as an 8-inch 189ppi display. Of course, it's equipped with LTE capability, so you can surf using T-Mo's ultrafast mobile network.
If you want to pre-register your interest, you can head on over to the Galaxy Tab 4's page on T-Mobile's online store.