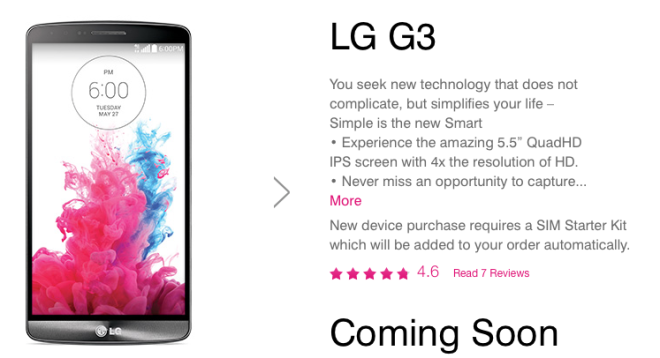 While we've known for a while that T-Mobile and the other major U.S. carriers will be stocking the upcoming LG G3, we didn't have any specific release date for anyone but Verizon. Our inside sources tell us we can expect the impressive LG flagship to land on T-Mo's store shelves on July 16th. Which – if correct – would put it a day earlier than VZW's launch date.
The LG G3's spec list is impressive, and from having used it for the past week or so, let me tell you: The phone is impressive. It feels comfortable in hand, the display is amazing, battery life is great and the camera is capable of stunning results. There are very few compromises. You can check out my PhoneDog unboxing above.
Our source also tells us that we can expect two other devices to be added to T-Mo's inventory pretty soon as well. Sony's Xperia T2 Ultra, the LTE-equipped device with a 6-inch 720p display and Snapdragon 400 series quad-core processing should be available from July 23rd. It's essentially a well-specced mid-range phablet. I've tested a few devices using the 400 series, Cortex A7 chip in recent days, and performance is admirable. I'd expect the same from the T2.
On the same day, we're also expecting the Samsung Galaxy Tab 4. T-Mobile announced that it would be selling the device towards the back end of April, stating it would be available this summer.
"Samsung's latest sleek and stylish 8-inch tablet is an affordable option for anyone who enjoys movies, music and TV shows, as well as taking and sharing photos. And, when paired with a T-Mobile Simple Choice Plan, customers can get nearly 1.2 GB of FREE data through the end of the year – with access to T-Mobile LTE on America's fastest nationwide 4G LTE network. All with no annual service contract, no overages, no hidden device costs, no upgrade wait, and no crazy international data roaming charges for travel in 100+ countries."
We don't have long to find out if our information is correct. And we'll update you if we hear anything extra or get hold of any pics of store inventory showing up. Of course, let us know if you're planning on picking up any of these devices.