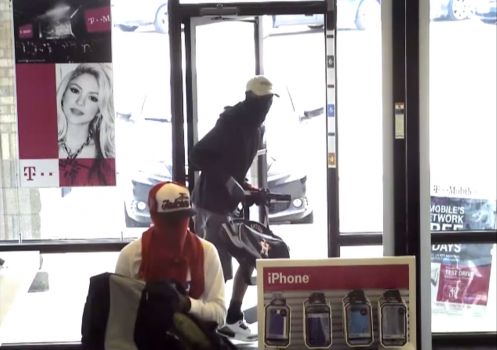 Whenever I've written in the past about stores being robbed – whether they're Apple or T-Mobile stores – it's almost always been a case of smash and grab, in which nothing much is taken, and no one got hurt. I was taken aback then, when I read a report over at the Houston Chronicle detailing a robbery at a Harris County T-Mobile store at 11260 West FM 1960.
At 1:20pm local time on Wednesday, July 23, 2014, three masked gunmen stormed in to the T-Mobile store and walked out with 80 cellphones worth around $400 each.
The three men rushed in to the store, one of whom shouted at customers and staff to get down on the floor, with one of them pointing a gun at the people. They wore bandanas over portions of their faces, and during the incident struck staff and an elderly customer on their heads with the gun, injuring them in the process. Harris County deputies said the robbers made off with cash plus 80 smartphones worth around $30k in total.
Immediately after the robbery took place, the men sped off in a black '02-'05 model Chevrolet Impala and were last seen driving westbound on West FM 1960.
All three suspects were described as being black, in their late teens-early twenties and were between 5'10"-6′ tall. As noted by the Houston Chronicle:
One of the suspects wore a white T-shirt, black shorts, red Nike shoes, a white Detroit Pistons cap and a red bandana on his face. Another wore a white long-sleeve T-shirt, khaki shorts, white shoes, an Atlanta Falcons cap and a red bandana on his face. The third suspect wore a black hoodie, basketball shorts, white shoes, a white cap and a dark mask or bandana on his face.
Police are asking for anyone with any information to get in touch and call Crime Stoppers of Houston at 713 222-TIPS or submit a tip using the iWatchHarrisCounty phone app. If you do have any information, it would mean a lot to those who work in the store if you could report it.
Our thoughts are with those who were in the store at the time of the incident. We hope the staff and customers involved on the day recover quickly, both mentally and physically from the trauma of the robbery.
Source: Houston Chronicle