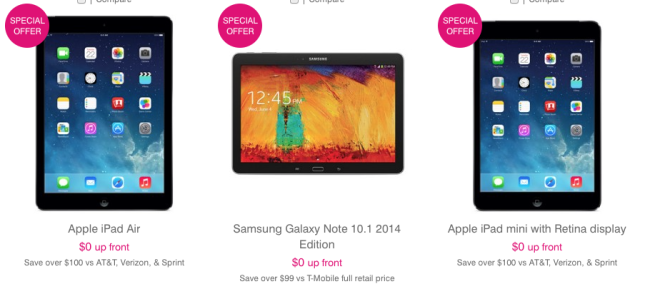 Starting today, in time for father's day, T-Mobile is offering a $100 discount on its most popular tablets, including the Galaxy Note 10.1 2014 edition, which only landed on Magenta store shelves today. The discount will be in place up in until June 15th.
For a limited time you'll be able to snag a Galaxy Note 10.1 for $0 down, and 24 monthly payments of $25, taking it to $600 in total. Plus, you can still take advantage of the free 200MB data for life, and get $10 off other mobile data plans until the end of this year. If you're more an iPad fan, you'll be pleased to know the iPad Air and mini have both been discounted by $100 for the next 9 days also.
"We've more than quadrupled our tablet line-up over the last year, and we're just getting started," said Mike Sievert, Chief Marketing Officer for T-Mobile. "Go to any of the old carriers, and you could pay more for your tablet or get stuck with long-term service contracts and overages. Only T-Mobile gives you a selection of the latest iOS and Android tablets with no annual service contract, no limits while on our network, no overages, with the world as your network in 100+ countries at no extra cost—and 200 MB free data for life."
To check out the offer in more detail, or buy a discounted tablet for father's day, head on over to the tablets store page on T-Mobile.com.