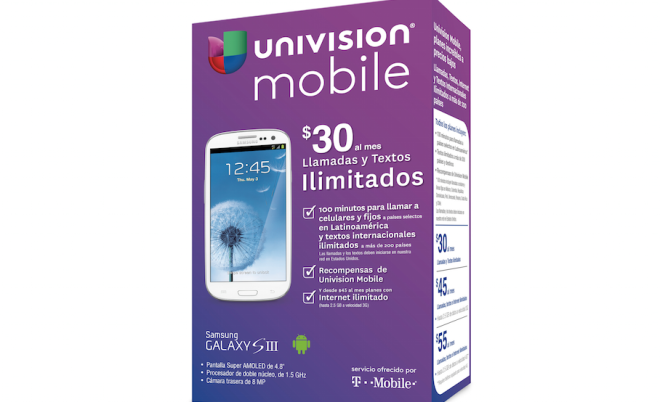 As we've heard a couple of times from our sources now, T-Mobile and Univision have announced a new prepaid MVNO dubbed "Univision Mobile". It'll launch on May 19th, exclusively at Walmart and independent dealer locations across the U.S, including Puerto Rico.
"Univision Mobile's services and features have been created to satisfy the needs of the U.S. Hispanic community," said Kevin Conroy, President, Digital & Enterprise Development, Univision Communications, Inc. "We're providing the best value, no annual contract wireless service plans specifically tailored to our audience's needs. This partnership further reinforces our commitment to serve our audience in every way possible and also clearly demonstrates how Univision is the gateway for any brand looking to connect with the influential and fast growing U.S. Hispanic community."
The carrier's "affordable, no annual contract plans" will start from as little as $30 per month.
Unlimited Nationwide Talk and Text plans for just $30 per month
Unlimited Nationwide Talk, Text, and Web plans starting at just $45 per month ($45 plan includes up to 2.5GB of high-speed data)
But there are also some pretty attractive add-on features available. For $10 per month, subscribers can add 1000 minutes to Mexican mobiles and/or landlines with the Mas Mexico Connect feature. Another $10 add-on offers unlimited landline calls to 70 countries.
And just as we revealed exclusively, here at TmoNews, all plans will include international features. Those include 100 mins to call mobile or landline numbers from the U.S. to eight Latin American countries and unlimited international texting from the U.S.
Via: T-Mobile