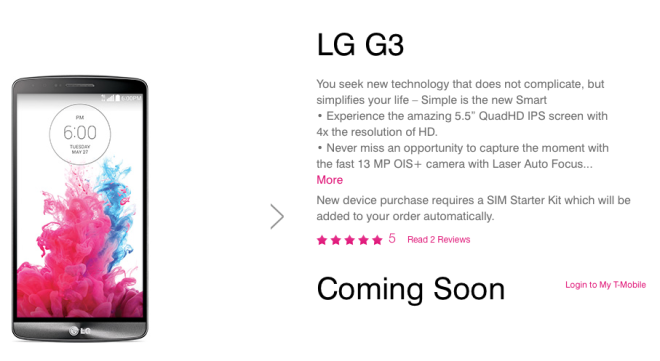 Soon after LG announced the G3 earlier this week, T-Mobile also ensured we all know it would be carrying the device from its release date. Also, as it turns out, T-Mobile's version is the higher-spec model with 3GB Ram. Rather unusually, LG opted to offer two storage models with varying amounts of RAM. The 16GB model has 2GB RAM while the 32GB model has 3GB RAM.
Although pricing hasn't been announced officially yet, in T-Mobile's competition to win a beta model it suggests a value of $650. These competition values are normally between $50-$100 away from the actual retail pricing. So, we can expect a price of between $550-$650. On a 24-month EIP, that could be anywhere between $23-$27 per month.
And just to whet your appetites, T-Mobile's product man, Des (@askdes on Twitter) has been teasing its launch with unboxings and snapshots of the boxload of beta devices in his office. I don't know whether he's being plain cruel, or if it's great social marketing. I've embedded the unboxing below.
If you're yet to sign up your interest, and to be notified when the device lands, you can pre-register here and enter for a chance to win one of the pre-release models at T-Mo Hq.