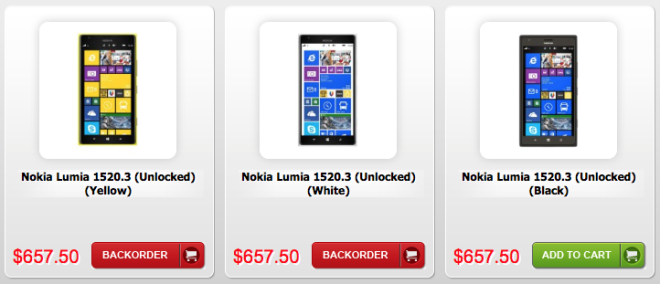 It often feels with T-Mobile that Windows Phone fans don't get a lot of love. Currently on the T-Mobile online store, the only options for Nokia Lumia are the 925 and the budget-friendly 521. Neither the 1020 or the 1520 are available directly. But, if you fancied one Nokia's impressive Windows Phone phablets, it turns out there is a way to grab one after all.
Having delved through his site's forums, Daniel Rubino of Windows Phone Central points out that there is a T-Mobile compatible version available for sale through third parties. Dubbed the Lumia 1520.3 due to its differing band compatibilities, the Nokia device is available in black from Negri Electronics and New Egg. Until now, the 1520 itself wasn't built to work with T-Mobile's frequencies, so it's nice to see one made to play nice with Magenta's network.
It's carrier unlocked, and is only available in the one color as of right now. The downside: You'll need to cough up over $620 to get one. And with it coming through third party stores, and not T-Mobile direct, there's no EIP available. So, better get saving if you really want one.
Via: WPCentral